Tc Helicon Go Twin
Tc Electronic Go Twin
Go Twin ช่วยให้ creators มีอิสระในการบันทึกเสียงคุณภาพได้ทุกที่ทุกเวลาโดยใช้อุปกรณ์เคลื่อนที่ที่ใช้ระบบ iOS , Android ,อย่าง Mac และ PC หรือบนมือถือของคุณทำให้เพลิดเพลินกับการบันทึกเสียงที่คมชัดระดับมืออาชีพด้วย 24-bit 48khz ในแพ็คเกจขนาดเล็กนี้ได้อย่างง่ายดาย
Tc Electronic Go Twin
High-Definition 2-Channel Audio/MIDI Interface for Mobile Devices
Professional Recording, Anywhere
GO TWIN allows creators the freedom to record quality dual-track audio anywhere, anytime using your mobile iOS*, Android*, Mac* and PC devices. Now, record anything with any compatible device. Enjoy crystal-clear professional level 24-bit 48khz audio recording in a small, mobile package.

** กด"สั่งซื้อ/สอบถามข้อมูล" เพื่อติดต่อผ่าน Line @
กรุณาแจ้งรุ่นและสี ที่ต้องการครับ
Additional information
| | |
| --- | --- |
| Brands | Tc Eletronic |
| Instrument | Effect (เอฟเฟค) |
| Categories | Vocal Pedal (เอฟเฟคร้อง) |
| Types | Interface |
Product Features
Go inspire the world with a professional-quality audio interface
Record high-quality audio using your mobile device
Control sounds, samples and more with integrated MIDI
Dual combo XLR* jacks for microphone, line level and instrument inputs
High-quality microphone preamps with +48 V phantom power
Integrates seamlessly with the creative suite of TC Helicon and other mobile apps
Stereo headphone output with adjustable gain allows real-time monitoring
Dual 1/4″ TRS outputs with level control connect to your PA or studio monitors
2 x 2.5 mm MIDI I/O jacks allow you to connect your 5-pin MIDI devices (cables included)
Connects directly to your iOS, Android*, Mac* and PC devices using USB or MFi Lightning* cables provided
Powered via USB or 2 AA batteries
Optional DC power supply lets you charge your mobile device while using interface
Designed and engineered in Canada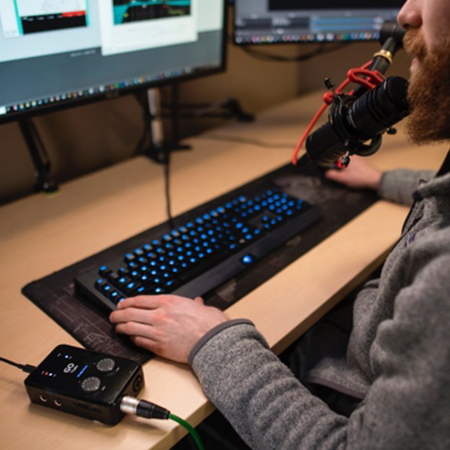 Creator Friendly
Whether you're a musician, podcaster, Youtuber or all three, being able to record yourself quickly and easily is essential to capturing inspiration. Never let another moment pass you by with the speed and ease of recording with GO TWIN.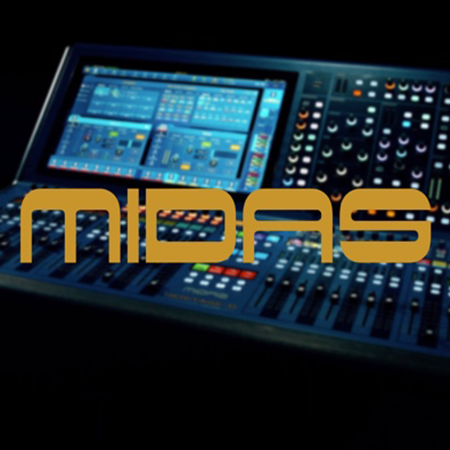 Small-Box, Big Sound
GO TWIN contains two ultra-clean pre-amps from award-winning, high-end mixing console manufacturer Midas. 48 V Phantom Power makes sure you'll always have enough juice for your condenser mic wherever you record.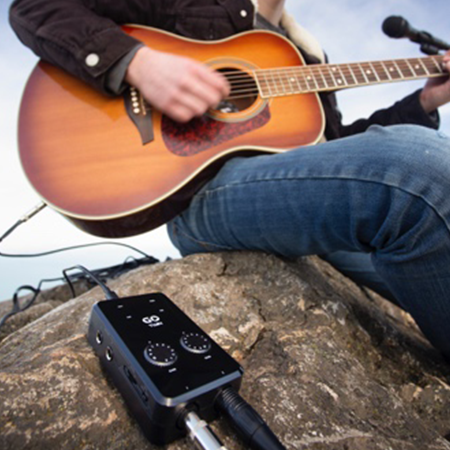 Real-Time Monitoring
Real-time signal and peak level indicators and adjustable, oversized gain knobs allow you to precisely control your recording levels. Monitor yourself live and latency-free via the ¼" headphone jack and focus on making great recordings.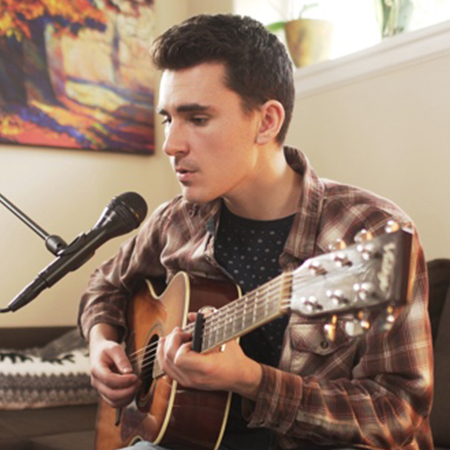 Singer/Songwriter Studio
Capture vocal and instrumental tracks with 2 x XLR / ¼" Combo Connectors. With dual recording capabilities, the GO TWIN allows you to record two clean tracks of microphone, line level, or instrument audio. Never let another moment of inspiration pass you by with the speed and ease of recording with GO TWIN.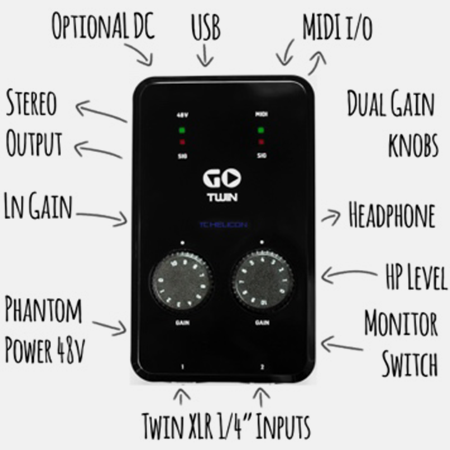 Seeking Connection
With 2 x 2.5 mm MIDI jacks, a combo XLR / ¼" Input, ⅛" Headphone Output, DC adaptor input, and a mini USB port for PC/MAC—You'll be ready to connect your mic, guitar, MIDI keyboard and more directly to your PC, MAC*, iOS*, or Android* Device. Stereo ¼" line outputs allows for simplified connection to your PA or recording console.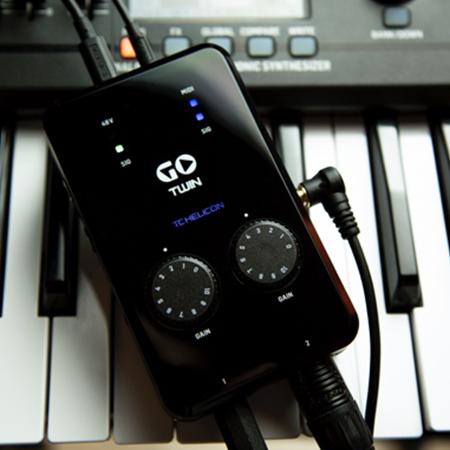 MIDI Might
Built with chaining and routing in mind. Connect your keyboards, controllers, and sound modules with two standard 5-pin MIDI to 2.5 mm cables. Use the MIDI OUT for additional routing possibilities to control sounds, samples, and more.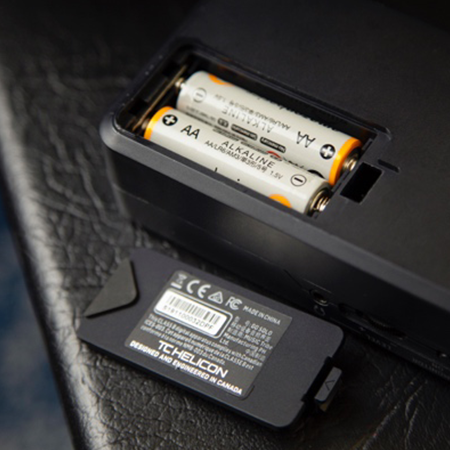 Powerful Potential
Use the GO TWIN powered by 2 x AA batteries on the go or stay charged using an optional DC adaptor. For recording indefinitely, use our lightning* cable that also charges your iOS* mobile device and never find yourself without power again.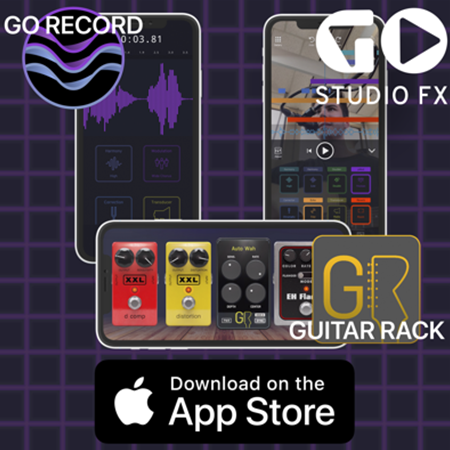 App Suite Spot
Enjoy a suite of free, fully unlocked apps from TC-Helicon when you plug your GO TWIN device into your compatible iOS device. Transform your guitar with a fully featured pedal board and amp emulator using Guitar Rack. Capture backing tracks and live vocal and video effects using Go Studio FX. Create clean voice recordings, loops and entire songs with Go Record. With GO TWIN, your app comes automatically unlocked.
For a little extra, pick up VOICE JAM STUDIO, a live-looping voice effects processor for $9.99 and really take your performance to the next level!