Tc Helicon Go Guitar Pro
Tc Electronic Go Guitar Pro
GO GUITAR PRO ช่วยให้ creators มีอิสระในการบันทึกเสียงคุณภาพได้ทุกที่ทุกเวลาโดยใช้อุปกรณ์เคลื่อนที่ที่ใช้ระบบ iOS , Android ,อย่าง Mac และ PC ไม่ว่าคุณจะสร้างสรรค์ผลงานที่ไหน คุณจะสามารถบันทึกและเล่นเสียงที่มีความละเอียดสูงได้ด้วยการแปลง 24-bit A/D ผ่านระบบ Midas preamp ของเราที่ได้รับรางวัล
Tc Electronic Go Guitar Pro
High-Definition Guitar Interface for Mobile Devices
Collaborate. Capture. Create.
GO GUITAR PRO allows creators the freedom to record quality audio anywhere, anytime using your mobile iOS*, Android*, Mac* and PC devices.  Wherever you decide to create, you'll be able to record and playback high-definition audio thanks to our 24-bit A/D conversion and award-winning Midas preamp.

** กด"สั่งซื้อ/สอบถามข้อมูล" เพื่อติดต่อผ่าน Line @
กรุณาแจ้งรุ่นและสี ที่ต้องการครับ
Additional information
| | |
| --- | --- |
| Brands | Tc Eletronic |
| Instrument | Effect (เอฟเฟค) |
| Categories | Vocal Pedal (เอฟเฟคร้อง) |
| Types | Interface |
Product Features
Go inspire the world?and record your electric guitar, bass and line-level instruments
Plug in your electric or bass guitar and unleash your creativity
Record high-definition audio directly to your iOS*, Android*, Mac* and PC devices
Compatible with a wide range of mobile apps and software
Integrates seamlessly with the creative suite of TC Helicon mobile apps
Award-winning Midas preamp for highest signal integrity
Guitar input and output connectors for guitars, amps, PA systems, etc.
Powerful headphone output with adjustable level
Selectable Thru / FX for monitoring processed or clean signal to a guitar amp or external rig
Connects directly to your iOS, Android, Mac and PC devices using USB or MFi Lightning* cables provided
Convenient mounting including an integrated mic stand and belt clip
Powered by your mobile device, Mac or PC
Designed and engineered in Canada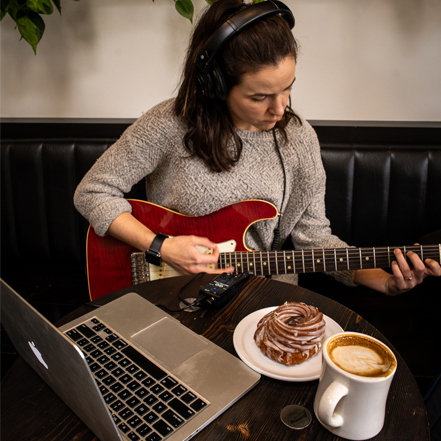 Bring It with You
Want to play and practice in public… but privately? Whether you're in the park, coffee shop or on the road, simply plug your electric or bass guitar into GO GUITAR PRO and use your headphones. All you need is this simple guitar interface, a mobile or desktop device, and of course, your guitar!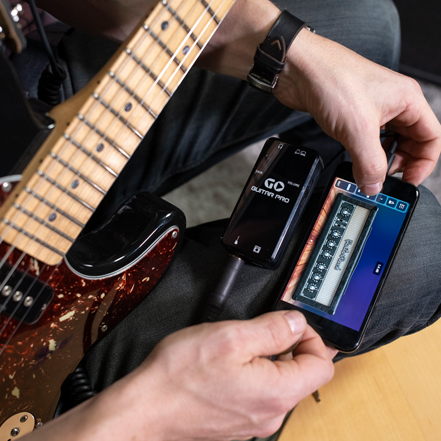 Add Your Own Style
Bring your unique sound to life by using the companion app designed specifically for your GO GUITAR PRO for amp modeling and to add your favorite effects. And if you're feeling adventurous, spark your creativity with the entire array of TC Helicon mobile apps. GO GUITAR PRO is also compatible with a wide range of apps and software from 3rd-party vendors.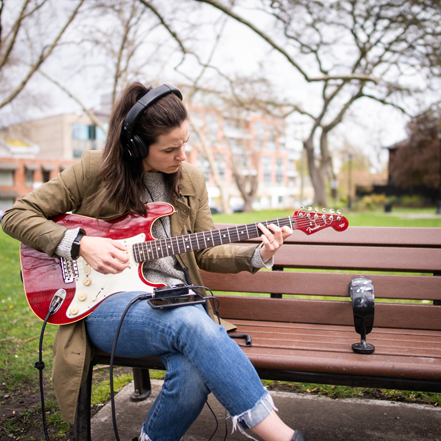 Brazenly Bold or Soulfully Shy?
Whether you crave to be heard for miles or want your own discreet, private jam, we have you covered. Simply connect headphones to GO GUITAR PRO and hear yourself as you record or play with no noticeable latency, or use the selectable FX/Thru for monitoring a processed or clean signal to your amp or external rig!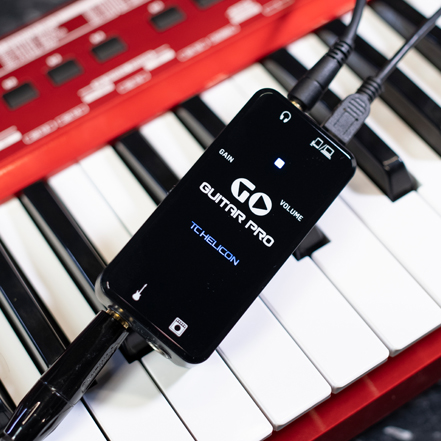 More than Just Guitars
Sure, the word "guitar" is in the name, but you're not limited to guitars only! You can also use the Line input for any line-level audio device, such as your keyboard or mixer.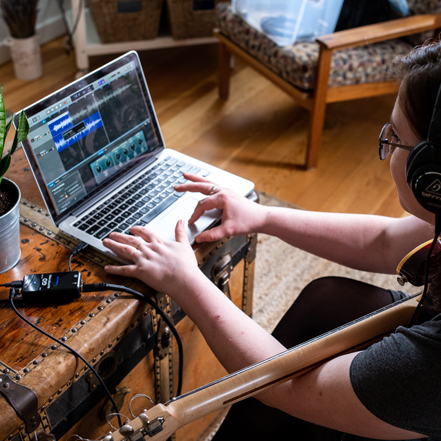 Record that Riff
After solidifying that hit-making hook, feel confident that you're capturing high quality audio directly to the platform of your choice. Whether it's a mobile phone, iPad*, laptop or desktop, you can seamlessly integrate GO GUITAR PRO with both mobile and desktop DAWs. Plus, GO GUITAR PRO ensures a broad dynamic range for a distortion-free audio signal, so you can be confident that the recording you create will be professional-grade.