Korg Volca Bass
Korg Volca Bass
the volca bass เป็นเหมือนกับกล่องแอมป์เบสไลน์แบบอะนาล็อกที่มีสิ่งที่คุณต้องการสำหรับสายเบสไลน์ที่ต้องการความหลากหลาย ถึงแม้จะมีโครงสร้างที่เรียบง่าย แต่เอ็นจิ้นเสียงแบบอะนาล็อกนี้จะมีการแสดงที่ไม่ผิดเพี้ยน พร้อมความแตกต่างที่ละเอียดอ่อนซึ่งไม่สามารถทำซ้ำได้ด้วยการจำลองแบบดิจิตอล มันเป็นตัวเลือกที่ยอดเยี่ยมสำหรับแนว acid house หรือแนวดนตรีอื่น ๆ อีกมากมาย นอกจากนี้ยังเป็นวิธีที่มีประสิทธิภาพในการสร้างลูปเบส "ฟรีฟอร์ม"ที่จะกระตุ้นแรงบันดาลใจของคุณ
Korg Volca Bass
Powerful analog bass sound creation and an Electribe-inspired sequencer for the ultimate bass lines
Aggressive sounds that stand up to the drums; fat sounds that support the rhythm; funky sounds that generate a groove - the volca bass is an analog bassline groove box that has what you need for a wide range of bass lines.
Although simple in structure, the analog sound engine has an unmistakable presence with subtle nuances that cannot be reproduced by a digital simulation; it's a great choice for acid house and many other styles of music. The step sequencer distilled from the Electribe is not only visually intuitive; it's also a powerful way to generate "free form" bass loops that will stimulate your inspiration.

** กด"สั่งซื้อ/สอบถามข้อมูล" เพื่อติดต่อผ่าน Line @
กรุณาแจ้งรุ่นและสี ที่ต้องการครับ
Powerful analog bass sound
・Three oscillators generate a variety of bass sounds
・Newly designed analog filter for crisp, bright response
・Simple structure with single VCF, VCA, LFO, and EG
Loop sequencer distilled from the Electribe series
・Step Sequencer distilled from the Electribe series
・Slide function that's indispensable for acid and other types of electronic music
・Active Step function generates new bass lines by removing or inserting steps
Convenient functions for ease of use
・Self-tuning function overcomes pitch drift – the weak point of an analog synth
・SYNC jack and MIDI IN connector allow synchronized performances with multiple units or with your DAW
・Compact size, battery-powered operation, and built-in speaker for enjoyment anywhere
Additional information
| | |
| --- | --- |
| Brands | Korg |
| Categories | Synthesizer (ซินธิไซเซอร์) |
| Instrument | Synthesizer&Keyboard (คีย์บอร์ด) |
| Series | Volca Series |
SKU: 002-01129-BAS - Need Help? Contact Us Leave Feedback
Categories: Keyboard&Recording, Korg
Contact Us
Enter your contact details or email form shortcode here. (Text/HTML/Shortcodes accepted).
Leave Feedback
Enter your feedback modal content here. (Text/HTML/Shortcodes accepted).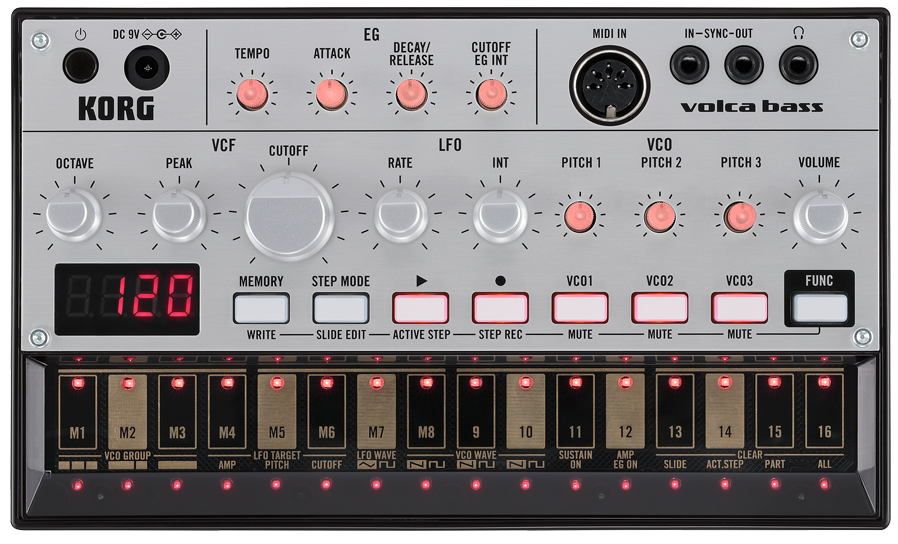 Analog bass sounds with awesome presence
Three oscillators generate a variety of bass sounds
Generating the thick and modulated sounds that you expect from an analog synthesizer, the three oscillators can be used in a variety of ways from one-part unison to three-part chords, giving you an incredible diversity of bass sounds.
By creating a sequence that uses each oscillator individually, you can create a complex pattern in which three different phrases are woven together. Using the oscillators in a 2+1 combination lets you place one set of oscillators at a low pitch and the other at a higher pitch, producing a bass line and melody simultaneously. When using the three oscillators together, you can slightly detune their pitch to generate thick unison sounds; alternatively, setting their pitch to 0, +3, and +7 will produce a chord.
Bright, crisp sound from Korg's legendary analog filter
The analog filter has been fine-tuned specifically for the volca bass. Turning the Cutoff knob to open the filter will make the sound brighter and more expansive; closing the filter produces a rounder and milder sound. Using the Peak knob to raise the resonance will initially produce a clean peak, and further increases will create great-sounding distortion. The resonance distortion that's so important for acid music has been tuned especially to accommodate bass sounds.
Simple structure with a single VCF, VCA, LFO, and EG
In addition to the three VCOs, the volca bass provides a carefully selected parameter structure consisting of a single VCF, VCA, LFO, and EG, ensuring that the sound that you want can be created intuitively. This is also the standard structure of a synthesizer, making the volca bass an ideal introductory instrument for learning the fundamentals of synthesizers – the enjoyment of creating your own sounds.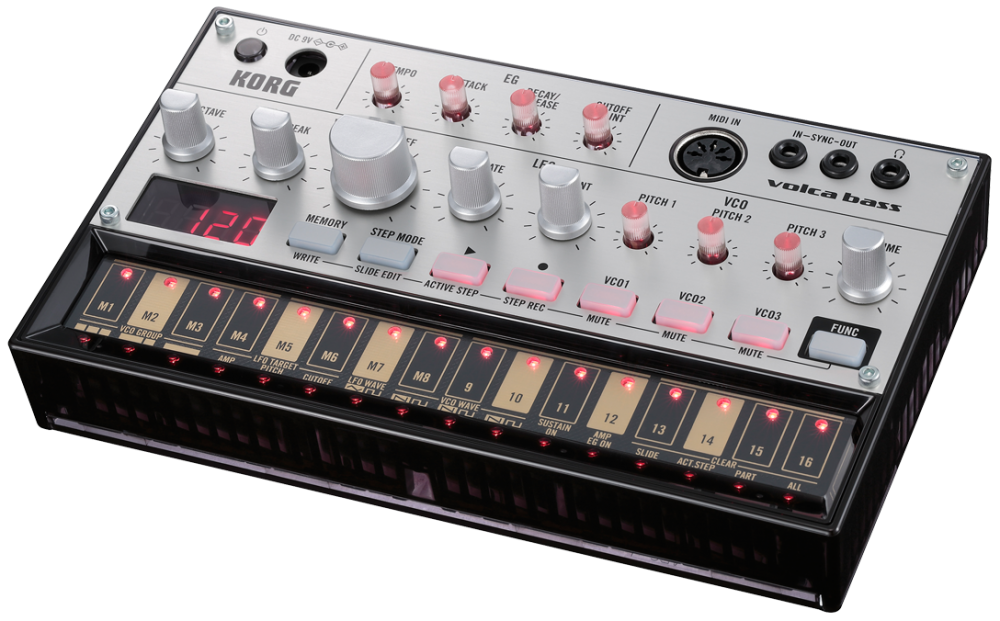 Loop sequencer distilled from the Electribe
The Electribe's step sequencer
This step sequencer is designed to make editing easy and to let you add or remove parts in an improvisational way. You can use the 16 step keys to intuitively enter notes while visually monitoring the timing of the notes within the measure. You can also enter completely different phrases for each of the three oscillators, and play the touch panel keyboard to record in real time, andpp to eight sequence patterns can be stored in internal memory.
Slide function that's indispensable for EDM
With its distinctively "sticky" sounding pitch and filter, acid bass is an indispensable type of sound for an analog synthesizer. The volca bass provides a Slide function that creates the impression of connected steps, making it easy for anyone to produce acid sounds. The slide can be specified for each step.
Active Step function generates new bass lines by removing or inserting steps
Active Step is a function that lets you skip a step during sequence playback. It can create effects similar to a short loop or unexpectedly irregular rhythms, allowing dynamic performances just as though you were performing the sequence itself.