Korg microKORG
Korg microKORG
microKORG เป็น synthesizer ขนาดเล็กกระทัดรัดที่ให้ความเพลิดเพลินในการสังเคราะห์เสียงอย่างแท้จริง ภายใต้ขนาดเล็ก ๆ ของมันแฝงไปด้วย synthesizer อันทรงพลัง มันสนุกที่จะเล่นโดยให้เสียงและฟังก์ชั่นที่จะทำให้ทุกคนพึงพอใจตั้งแต่มือใหม่จนถึงมืออาชีพ
Korg microKORG
Serious synthesizer and vocoder functionality in a compact package --- the microKORG.
The new microKORG is a compact-sized synthesizer that delivers the true enjoyment of synthesis. Underneath its small exterior lurks an amazingly powerful synthesizer. It is fun to play, and it delivers a sound and functionality that will satisfy everyone from the beginner to the professional. Welcome to a world of unlimited creativity.

** กด"สั่งซื้อ/สอบถามข้อมูล" เพื่อติดต่อผ่าน Line @
กรุณาแจ้งรุ่นและสี ที่ต้องการครับ
– A true synthesizer with an analog modeling tone generator
– Powerful-sounding oscillator section
– Knife-sharp filter section
– An amp section with great presence and distortion
– EG and LFO add subtle tonal movement
– Virtual patches for even more sophisticated sound-editing
– Versatile and distinctive vocoder
– 128 programs for immediate use
– A full range of effects
– Freely settable arpeggiator
– Process an external audio source via the audio inputs
– MIDI controller functionality
– Controls designed for easy access
– Pop and distinctive looks, and an included mini-mic
Additional information
| | |
| --- | --- |
| Brands | Korg |
| Categories | Synthesizer (ซินธิไซเซอร์) |
| Instrument | Synthesizer&Keyboard (คีย์บอร์ด) |
| Series | Microkorg |
SKU: 002-01048 - Need Help? Contact Us Leave Feedback
Categories: Keyboard&Recording, Korg
Contact Us
Enter your contact details or email form shortcode here. (Text/HTML/Shortcodes accepted).
Leave Feedback
Enter your feedback modal content here. (Text/HTML/Shortcodes accepted).

Versatile and distinctive vocoder
You can connect a mic to the AUDIO IN1 jack of the microKORG, and use it for a powerful vocoder that applies the tonal character of a vocal input to the sound of an oscillator, producing the impression that it is speaking or singing.
This is an eight-band vocoder (the sixteen filters are used in pairs) that can not only simulate the classic vocoder sounds of the past, but also shift the filter frequencies (Formant Shift function) or even adjust the level and panning of each frequency band to dramatically transform the tonal character and create highly original sounds. In addition, the Formant Hold key freezes the formants of the input vocal signal, allowing you to capture your voice and play it on the keyboard. Since the microKORG ships with a microphone, you can start using the powerful vocoder function immediately.
While vocalizing into the mic and using the keyboard to play vocoder sounds, you can "freeze" the current tone of the vocoder by pressing the Formant Hold key. This allows you to continue to play the current vocoder sound, even when you are not vocalizing. This tone will be remembered when you write the vocoder program to memory. Several of the vocoder bank programs will sound even if you simply play the keyboard. These programs were written with Formant Hold turned on.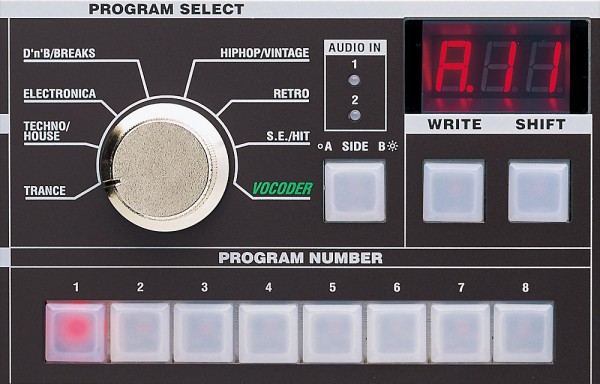 128 programs for immediate use
The microKORG contains 128 programs covering a wide range of current and classic synth and vocoder sounds.
From the warm and rounded tones characteristic of analog modeling, to sharp and extreme sounds, you can easily access the sounds you need, thanks to the clear genre categories that the sounds are organized by.
Just select the music style/sound category you want and pick a sound! Once you select a sound the five knobs will control the most important functions you would want in performance for immediate results.
A full range of effects
The microKORG provides three types of modulation effects (chorus/flanger, phaser, ensemble), three types of delay effects (stereo, cross, L/R), and a two-band equalizer to add the finishing touch to your sound. The delay effect can be synchronized with the arpeggiator or an external MIDI clock, a great feature for live performances and groove- oriented music. All effects can be edited simply by turning knobs to create your own unique sounds.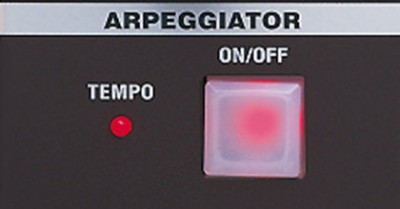 Freely settable arpeggiator
Six types of arpeggio patterns (UP, DOWN, ALT1/2, Random, Trigger) are built in.
You can adjust the length and resolution of the arpeggiated notes, and switch steps on and off to produce cool patterns easily.

Controls designed for easy access
With its compact design, the microKORG is easy to carry and set up. There's no complex menu structure — all parameters are right there on the panel for easy access to any function.
Designed for live performance, all the important controls are large and easy- to-read, even on dimly lit stages.
And by taking advantage of its realtime capabilities, you can make your stage sound even more powerful.
Pop and distinctive looks, and an included mini-mic
With its beige-gold body color and wooden side panels, and a retro-feeling design that reflects a pop sensibility, the microKORG projects a powerful visual presence.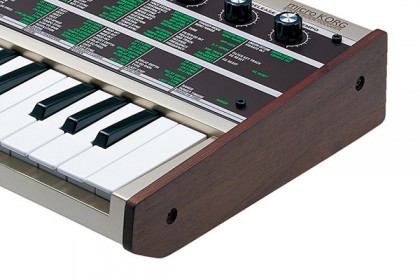 Included with the microKORG is a miniature condenser mic for use with the vocoder that can be adjusted to the desired angle.