Korg Konnect Portable Stereo PA System
Korg Konnect Portable Stereo PA System
KONNECT เป็นระบบ PA สเตอริโอแบบออล - อิน - วันแบบพกพาที่ให้โซลูชั่นที่สมบูรณ์สำหรับทั้งเสียงและความสะดวกสบาย เป็นยูนิตเดียวที่มีทุกสิ่งที่คุณต้องการสำหรับการแสดงดีเจ, ดนตรีประกอบหรืองาน MC ในทุกสถานการณ์ หรือไม่ว่าจะเป็นการแสดงสด, ปาร์ตี้, สตูดิโอ, งานเต้นรำ, นิทรรศการงานสัมมนาหรือการนำเสนอ ก็สามารถตอบโจทย์ได้อย่างมีประสิทธิภาพ
Korg Konnect Portable Stereo PA System
Connect anything to this great-sounding, self-contained speaker.
A portable stereo high-powered PA with high-quality sound.
KONNECT is a portable all-in-one stereo PA system that provides a complete solution for both sound and convenience. It's a single unit that has everything you need for performances, DJ, background music, or MC work in any situation: live shows, parties, dance studios, exhibitions, seminars, or presentations.

** กด"สั่งซื้อ/สอบถามข้อมูล" เพื่อติดต่อผ่าน Line @
กรุณาแจ้งรุ่นและสี ที่ต้องการครับ
Additional information
| | |
| --- | --- |
| Brands | Korg |
| Categories | Powered Speaker (ลำโพง) |
| Types | Portable P.A. System (ชุดลำโพง) |
SKU: 002-09002 - Need Help? Contact Us Leave Feedback
Contact Us
Enter your contact details or email form shortcode here. (Text/HTML/Shortcodes accepted).
Leave Feedback
Enter your feedback modal content here. (Text/HTML/Shortcodes accepted).
-Featuring clarity that's unparalleled in any compact speaker, KONNECT delivers both powerful low-end and loudness. At the same time, KONNECT includes conveniences such as an interface that's easy to understand and operate, a rich variety of EQ presets suitable for any source (the VOICING function), and support for wireless control from your smartphone or tablet.
-The portable KONNECT is an easy way to get great sound anytime and anywhere.
-Multi-function amp useful in a variety of situations
-Excellent design delivers high-quality sound, with playback capability that covers the full range from high to low, and power far beyond its size
-Compact one-piece construction allows easy transportation, connection, and setup
-Dedicated "KONNECT App" lets you wirelessly control the mix
-Play back music wirelessly via Bluetooth
-High-quality effects per channel and master reverb
-Provides optimal EQ presets (VOICING function) for a variety of instruments and musical styles
-SCENE function lets you recall settings instantly
-Feedback suppressor prevents acoustic feedback
-Panel layout is easy to use without confusion
-Center cancel lets users reduce the volume of the vocal or guitar in a song
-Each channel is equipped with EQ, pan, mute & solo, and phase switch
-Can be mounted on a speaker stand
-Dedicated carrying bag is available
Stunning high power and clarity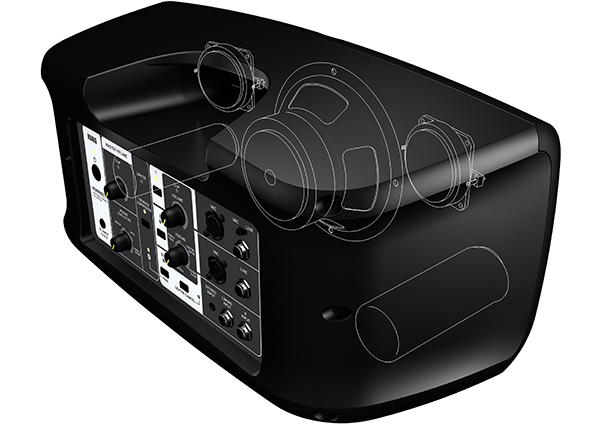 The KONNECT features stunningly powerful sound that exceeds its class. While remaining lightweight and compact, it reaches high volumes suitable for the stage. Equipped with a 6.5-inch woofer and two tweeters, it delivers a total of up to 180W of power. A bass reflex structure provides a rich low-range, giving you powerful sound that packs a punch.
In addition, the KONNECT achieves a clear sound image with an excellent sense of separation. The secret to this capability lies in a cutting-edge SHARC DSP and 32-bit digital processing. Experience accurate phase control with an all-in-one stereo speaker, a carefully designed crossover that connects the high and low frequency ranges, a low-noise design that decreases the noise floor, and superb resolution that delivers smooth attacks and crisp clarity. The latest technology and Korg's know-how ensure that the full range will be reproduced with high-quality sound that rivals studio monitors.
Easy operation that anyone can understand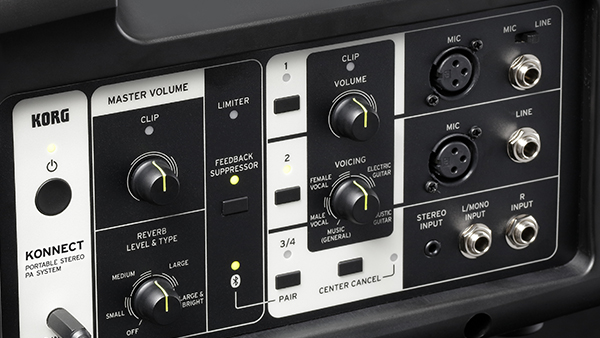 In addition to a panel layout that is clear and concise, every function corresponds to a knob or switch. The KONNECT is designed with an interface that will be intuitive even to non-musicians. There are four input channels, which can be used for both microphones/audio sources and instruments. Each channel is equipped with an independent volume control.
The all-in-one design combines a mixer, power amp, speakers, multi-effect unit, and feedback canceller into a single unit. This eliminates many of the inconveniences of using a conventional PA system, such as the difficulty of transportation, the need to provide speaker cables, the difficulty of finding the best location for the speakers, or the need to find a partner to help you set up. The sturdy front grill also protects the speakers from impacts during transportation. There's a hand-grip that lets you easily carry the unit with a single hand, plus a stylish, high tech design.
Remote control from a smartphone

With the spread of digital mixers in recent years, wireless control using a tablet is a must-have in the professional workplace as well. The KONNECT also lets you use the dedicated KONNECT App (supports iOS 8.1 and Android 5.0 or later) to connect via Bluetooth, allowing users to use their smartphone or tablet to wirelessly control the unit. KONNECT can be operated from a listening position without having to walk over to the unit's rear panel.
In addition, KONNECT App satisfies both people who are unfamiliar with mixing as well as people who like to make detailed settings to their own taste. You can switch between STANDARD mode with its simple parameter structure, and ADVANCED mode which lets you edit more detailed parameter settings.
Using the KONNECT App also expands the functionality of the KONNECT. It adds a rich variety of VOICING presets and effects beyond what can be selected from the panel of the unit, and additionally supports more detailed parameter control as well as solo and mute settings. You can also save your mixing settings in three "scenes." When holding events in different locations, or for an event with multiple performers, you can use this feature to save the rehearsal settings and then instantly recall them during the actual performance.
High-quality effects
Effects are an indispensable part of a stage performance. Thanks to its high-end SHARC DSP, the KONNECT gives you high-quality effects with unparalleled sound. The unit provides master reverb, and lets you use a single knob to easily adjust the reverb type and level.
Using the KONNECT App allows you to adjust the reverb settings individually for each channel, and also adds three types of effects (compressor, chorus, delay) to each channel. You'll be able to shape the sound optimally for each different source, such as vocals, guitar, or keyboard.
A variety of functions that are useful in any situation
Feedback suppressor
The unit is equipped with a feedback suppressor (channels 1/2) that prevents acoustic feedback. You won't need to worry about positioning the speaker and mic.
Center cancel
When playing back music, you can use the center cancel function (channels 3/4) to decrease the sound of the vocal and guitar. This is a useful way to provide karaoke for a singer-instrumentalist or a solo performer, or to optimize a song for use as background music.
Phase and pan
If inverted phase causes the sound to be muffled, you can use the phase switch function to reverse the phase. There's also a panning function to adjust the L/R balance (both are available only when using the KONNECT App).