Korg KingKORG
Korg KingKORG
KingKORG สามารถเปลี่ยนแปลง สังเคราะห์เสียงอะนาล็อก ให้อิสระในการปรับแต่งเสียงของคุณสามารถครอบคลุมเสียง synth ที่หลากหลายได้ การออกแบบแผงหน้าปัดสีดำพร้อมปุ่มปรับแสดงถึงเครื่องดนตรีคลาสสิกของประวัติศาสตร์และปลุกสัญชาตญาณของ keyboardist ที่ต้องการควบคุมเสียงsynth คุณภาพได้ตามใจคุณ
Korg KingKORG
A new generation of modeling synthesizer that covers all synth sounds.
How you do imagine the synth sounds you want to use in a live performance or a recording? Do you think of favorite songs or admired artists, or freely imagine sounds within yourself? And can you create those sounds using your synth?
The KingKORG faithfully reproduces the ways in which the oscillator and filter of an analog synthesizer can change, giving you freedom to shape your sound. A diverse range of synth sounds can be covered by this single instrument.

The long-awaited black model arrives.


A stylish black model has arrived. The black panel with its array of parameter knobs expresses a reverence for classic instruments of history, and awakens the instincts of the keyboardist who wants to control the sound to their heart's content.

** กด"สั่งซื้อ/สอบถามข้อมูล" เพื่อติดต่อผ่าน Line @
กรุณาแจ้งรุ่นและสี ที่ต้องการครับ
A full-fledged, 61-key analog modeling synthesizer designed for live performance
Powerful oscillators that are understandable to the beginner, yet satisfying for the expert
Modeling filters that reproduce the sound of classic instruments
Three master effect sections (each with six effect types) add the finishing touch to your sound
Vacuum tube driver circuit adds rich overtones and powerful distortion
New panel layout designed for intuitive operation
CV/GATE OUT jack lets you control a Korg monotribe or MS-20
Support for librarian software that lets you manage programs
Additional information
| | |
| --- | --- |
| Brands | Korg |
| Categories | Synthesizer (ซินธิไซเซอร์) |
| Instrument | Synthesizer&Keyboard (คีย์บอร์ด) |
| Series | kingKORG |
SKU: 002-01125 - Need Help? Contact Us Leave Feedback
Categories: Keyboard&Recording, Korg
Contact Us
Enter your contact details or email form shortcode here. (Text/HTML/Shortcodes accepted).
Leave Feedback
Enter your feedback modal content here. (Text/HTML/Shortcodes accepted).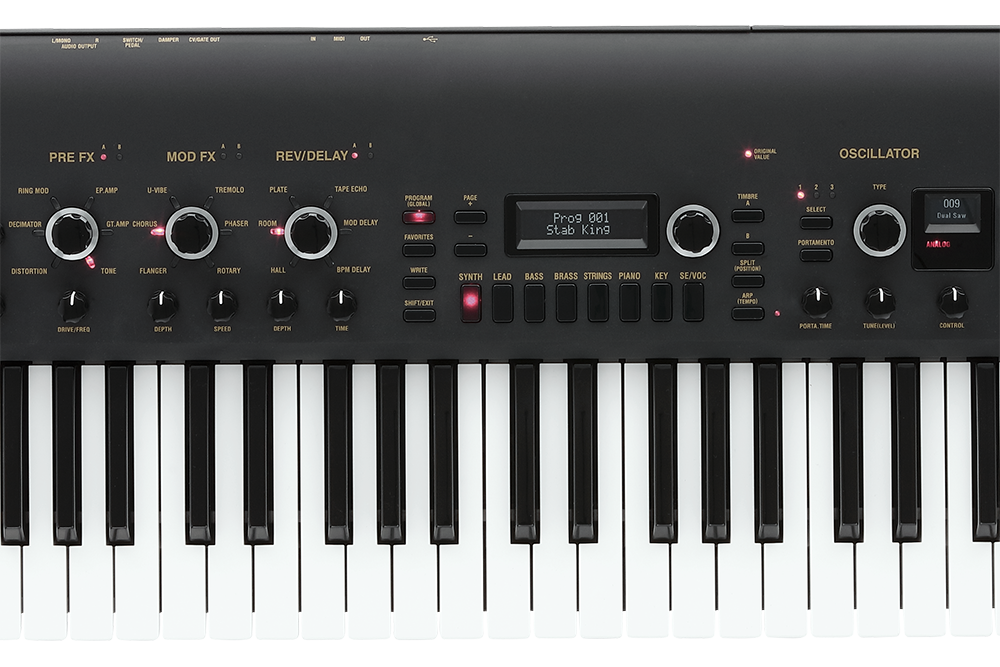 Newly designed panel layout allows intuitive operation
The newly designed panel is organized into blocks that let you focus on the controls you need while editing. While reflecting the concept of an analog synthesizer's signal flow, KingKORG's front panel takes full advantage of today's technology.
For example, the oscillator section has its own dedicated display that shows the name of the currently selected algorithm. You can turn the dial located beside this display to see descriptive names, and push the dial to jump to the beginning of categories such as ANALOG or DWGS. The control knobs are assigned to the most effective and important parameters for each oscillator, letting you enjoy the unique feature of an analog synthesizer — turning the knobs to transform the sound. There are also dedicated dials for each of the three master effects, making it easy to try out different effects and hear how they modify the sound. Since a self-luminous organic EL display is used, visibility is excellent even on a dimly lit stage or in direct sunlight.
Favorites function for convenience in live performance
The Favorites function lets you recall frequently-used programs at a single touch. You can assign a total of 40 programs to the eight category favorite buttons for easy recall.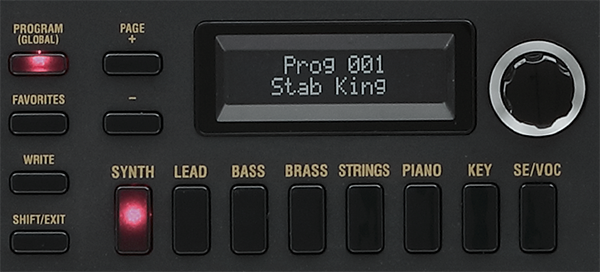 200 built-in preset programs
KingKORG provides a diverse selection of 200 stage-ready preset programs organized into eight categories such as Synth, Lead, and Bass. There's a great selection of the staple sounds you need for live performance, including numerous PCM sounds for piano, electric piano, organ, and clavinet. Thanks to KingKORG's ability to emulate filters from classic synthesizers, you'll find familiar and authentic sounds that are perfect for playing your favorite classic and modern songs, along with new and inspiring sounds to broaden your horizons. There's also a user area for you to store 100 of your own sounds.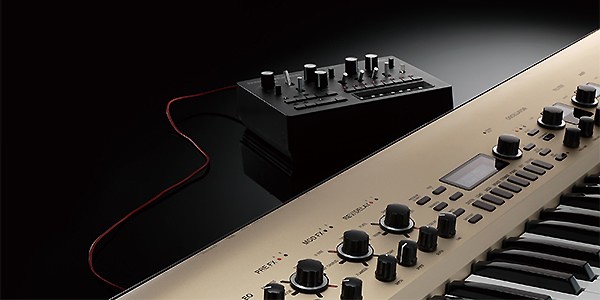 CV/GATE OUT jack lets you control the MS-20 or monotribe
The CV/GATE OUT jack lets you use an analog signal to control a KORG MS-20 or monotribe. A dedicated cable is included, allowing you to use the keyboard of KingKORG to play the MS-20 mini or monotribe.