Korg Kaossilator 2
Korg Kaossilator 2
ซินธิไซเซอร์ขนาดเท่าฝ่ามือที่สามารถเล่นได้ทุกคนทุกที่และทุกเวลา KAOSSILATOR ได้ถูกเปิดตัวในปี 2007 ได้รับการยกย่องอย่างสูงในฐานะอุปกรณ์แกดเจ็ตดั้งเดิมและก่อให้เกิด KAOSSILATOR PROและ iKaossilator สำหรับ iPhone ตามมา KAOSSILATOR 2 สร้างเครื่องกำเนิดเสียงที่เพิ่มพลังให้กับเสียงซินธ์และเสียงกลองที่ครอบคลุมหลากหลายประเภท รวมถึงการบันทึกแบบวนลูปซ้ำที่ขยายออกไปอย่างมาก และยังเต็มไปด้วยคุณสมบัติที่สามารถสนุกคนเดียวหรือร่วมกับคนอื่น ๆ เช่น ใช้สองลูปเพื่อสร้างมิกซ์แบบดีเจ ,ใช้ไมโครโฟนเพื่อบันทึกกีตาร์ เสียงร้องหรือแหล่งเสียงอื่น ๆ เช่นเดียวกับเอฟเฟกต์ลูปเปอร์ มีจอแสดงผล Organic Electroluminescent (OEL)ให้การมองเห็นที่ยอดเยี่ยม และยังเพิ่มแถบเลื่อนแบบสัมผัสเพื่อความสะดวกในการใช้งานการบันทึกลงใน microSD การ์ดมาพร้อมลำโพงและไมค์ในตัว คุณสมบัติทั้งหมดนี้สะท้อนให้เห็นถึงการปรับปรุงที่รวมอยู่ใน KAOSSILATOR 2 ที่ทันสมัยและน่าตื่นเต้น
Korg Kaossilator 2
It's a totally new KAOSSILATOR!
--- the palm-size phrase synthesizer that can be played by anyone, at any place, and at any time.
Introduced in 2007, the KAOSSILATOR has won high acclaim as the original gadget instrument and gave rise to the KAOSSILATOR PRO and iKaossilator for iPhone. Now say hello to the impressive KAOSSILATOR 2.
Boasting a powered-up sound generator, KAOSSILATOR 2 delivers synth and drum sounds spanning a wide range of genres, plus dramatically expanded loop recording. KAOSSILATOR 2 is packed with capabilities that can be enjoyed alone on or together with other people. Use two loops to create DJ-like mixes. Use the internal mic to record guitar, vocals, or other audio sources – just like a looper effect. The Organic Electroluminescent (OEL) display provides superb visibility. Add to that a touch slider for ease of use, microSD card data saving, plus a built-in speaker and mic. All of these features reflect the enhancements incorporated into the sleek and exciting KAOSSILATOR 2.

** กด"สั่งซื้อ/สอบถามข้อมูล" เพื่อติดต่อผ่าน Line @
กรุณาแจ้งรุ่นและสี ที่ต้องการครับ
Additional information
| | |
| --- | --- |
| Brands | Korg |
| Categories | Synthesizer (ซินธิไซเซอร์) |
| Instrument | Synthesizer&Keyboard (คีย์บอร์ด) |
| Series | Kaossilator & Kaoss Pad |
SKU: 002-02033 - Need Help? Contact Us Leave Feedback
Categories: Keyboard&Recording, Korg
Contact Us
Enter your contact details or email form shortcode here. (Text/HTML/Shortcodes accepted).
Leave Feedback
Enter your feedback modal content here. (Text/HTML/Shortcodes accepted).
-Simply tap or slide your finger across the X-Y touchpad to generate sounds
-150 built-in sounds cover every style of dance music
-PCM sound engine serves up realistic sounding drums
-Scale Key and Note Range eliminates "wrong" notes
-Built-in Gate Arpeggiator with adjustable gate time and swing settings
-Loop Recording allows for the creation of layered phrases with unlimited overdubs
-Dual Loop Recording banks allow DJ-Style mutes and cross-fades
-Record using the built-in mic; or use the mic input input to record an external audio input
-Onboard microSD/SDHC card slot for saving loops and recorded performances
-Operation linked with KORG iKaossilator for iPhone
-Easy-to-read screen uses high-visibility organic EL (OEL) display
-VALUE slider allows smooth parameter control
-Battery operation and built-in speaker for on-the-go enjoyment

Korg synthesis at your fingertips
The unique interface allows melodies and phrases to be played by simply stroking, tapping, or rubbing the touchpad. Horizontal motions control the pitch; vertical motions control aspects of the tone such as filter cutoff, feedback, or modulation depth. When using a drum kit program, multiple sounds can be played simultaneously, and you can even play the touchpad as if it were a drum pad.
The intuitive design and amazing flexibility of the touchpad allows users who are not keyboard players to perform easily, as well as creating performances rich with tonal changes that could not be produced on a traditional keyboard instrument.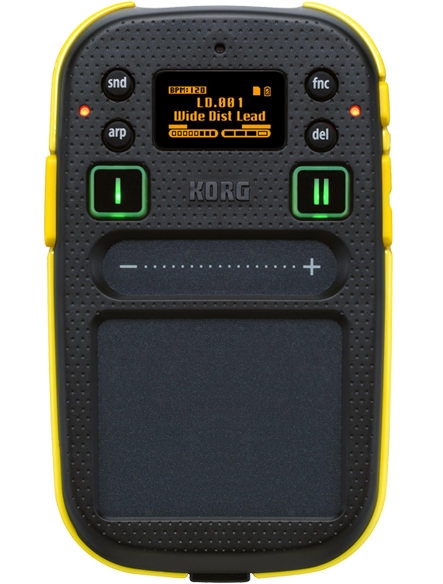 Musical Scale, Key, and Note Range help create musical performances
Even if you've never played a musical instrument before, the KAOSSILATOR 2's Key and Scale features ensure that the notes being played will match the song being performed. Use the Key setting to specify the musical key or "root." Choose from any of the 35 included scales, ranging from popular scales such as chromatic, major pentatonic, and minor blues, as well as unusual scales such as Spanish, Ryukyu, and Raga. By using both the Key and Scale settings to match the song, you can play perfect solos without a single wrong note.
In addition, the Note Range allows you to specify the range of playable pitches. You can set this to a narrow range to ensure that melodies will be played accurately as you intend, or to an extremely wide range to allow unexpectedly dynamic and unconventional phrases to emerge.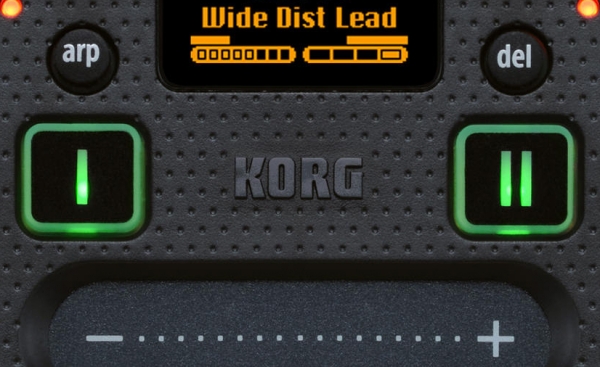 Dual Loop Recording banks provide DJ-Style performances
The two Loop Recording banks can be used alone, or used together for truly dramatic results. By combining the two loop recording banks, you can create new performances that were not possible on earlier KAOSSILATOR units.
Different sounds and phrases can be recorded onto each of the two loops. These loops can then be cross-faded or muted, or the loop length can be changed in real-time to create dynamic live performances. Unwanted loops can be erased and rerecorded while playback continues, so you'll be able to create DJ-like performances on the KAOSSILATOR 2 without the sound ever stopping!

Record and loop nearly any source!
The KAOSSILATOR 2 offers both an internal mic as well as an auxiliary mic input. This combination allows the loop –recording of nearly any audio source. Plus, you can easily mix different audio sources, so that as a loop phrase created using the KAOSSILATOR 2's internal sounds plays in the background, you can overdub your own rap, vocal, or other external sound, or enjoy a loop recording session with a musical collaborator – such as a guitarist.