Ernie Ball 40th Anniversary Volume Pedal.
Ernie Ball 40TH ANNIVERSARY VOLUME PEDAL
Since its introduction in 1977, the Ernie Ball Volume Pedal has been the leading choice for musicians across the globe. The Ernie Ball 40th Anniversary VP Pedal features a luxurious limited edition slate black aluminum chassis with updated graphics for a striking appearance both on and off stage. A redesigned ultra durable Kevlar cord improves potentiometer traction for precise volume control and a super smooth foot sweep. Inspired by the rugged design of the original, the pedal's compact extruded aluminum housing is virtually indestructible. Celebrate 40 years of quality, performance, and reliability with this new anniversary edition volume pedal only from Ernie Ball. Available 11.15.17 in the U.S. and Canada, available 12.15.17 internationally.

** กด"สั่งซื้อ/สอบถามข้อมูล" เพื่อติดต่อผ่าน Line @
กรุณาแจ้งรุ่นและสี ที่ต้องการครับ
Additional information
| | |
| --- | --- |
| Brands | Ernie Ball |
| Categories | Guitar&Bass Pedal (เอฟเฟคก้อน) |
SKU: EB-06110 - Need Help? Contact Us Leave Feedback
Categories: Effect, Ernie Ball
Contact Us
Enter your contact details or email form shortcode here. (Text/HTML/Shortcodes accepted).
Leave Feedback
Enter your feedback modal content here. (Text/HTML/Shortcodes accepted).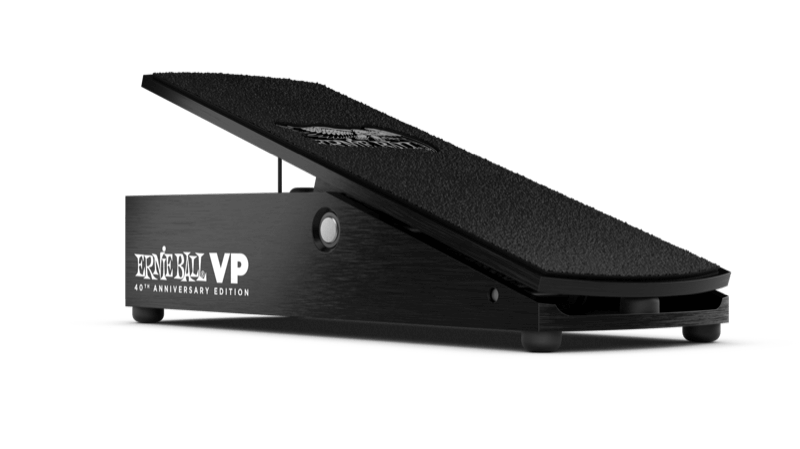 SMOOTH.
SOLID.
SATISFYING.
Introducing the 40th Anniversary VP – the next generation of the world's best-selling volume pedal.
40 YEARS OLD NEVER LOOKED SO GOOD
For the past four decades, we've been manufacturing virtually indestructible volume pedals for the most demanding players. This limited edition model has been upgraded with a slick new slate black finish on a rugged all-metal casing.
ULTRA DURABLE
KEVLAR® CORD
Our new PVC coated braided Kevlar® cord dramatically improves strength, increases traction, and ensures consistent tension throughout the foot sweep.
ACTIVE & PASSIVE COMPATIBILITY
The 40th Anniversary VP is designed and engineered to work with both active and passive audio signals.