Tc Electronic Mojomojo Paul Gilbert Edition
Tc Electronic Mojomojo Paul Gilbert Edition
Special Modified MOJOMOJO OVERDRIVE Pedal, Designed in Collaboration with Paul Gilbert with Extra Gain Mod Switch, High Headroom and Precise Controls
Tone Up with Paul Gilbert
We're very excited to have collaborated with the mighty Paul Gilbert on a specially modified edition of the MOJOMOJO OVERDRIVE pedal. If you're looking for a huge overdrive sound, you better ally with Mr. Big himself to have the fundamental tone dialed in just right! Sporting a couple of tweaks to the circuit and a stylish new purple Jacket, MOJOMOJO PAUL GILBERT EDITION is like the perfect chicken tender, combining juicy and crunchy in the most delicious way possible!

** กด"สั่งซื้อ/สอบถามข้อมูล" เพื่อติดต่อผ่าน Line @
กรุณาแจ้งรุ่นและสี ที่ต้องการครับ
Additional information
| | |
| --- | --- |
| Brands | Tc Eletronic |
| Categories | Guitar&Bass Pedal (เอฟเฟคก้อน) |
| Types | Overdrive & Distortion |
| Instrument | Effect (เอฟเฟค) |
SKU: TE-M01006 - Need Help? Contact Us Leave Feedback
Categories: Effect, Tc Electronic
Contact Us
Enter your contact details or email form shortcode here. (Text/HTML/Shortcodes accepted).
Leave Feedback
Enter your feedback modal content here. (Text/HTML/Shortcodes accepted).
Special modified MOJOMOJO OVERDRIVE pedal designed in collaboration with Paul Gilbert
Voice switch replaced with extra gain mod, this one goes to eleven!
Increased circuit board voltage gives dramatically more headroom and dynamics for an incredibly alive overdrive sound
4-knob interface enables extensive tonal tweaking while remaining highly intuitive to let you focus on playing
2-band EQ with active bass and treble knobs lets you really shape your sound
True bypass allows for optimum clarity and zero signal loss when the pedal is off
Easy one-screw battery compartment access
Compact format fits on any pedal board
High-quality components to give you extraordinary overdrive tones
Sturdy die-cast metal case designed for life on the road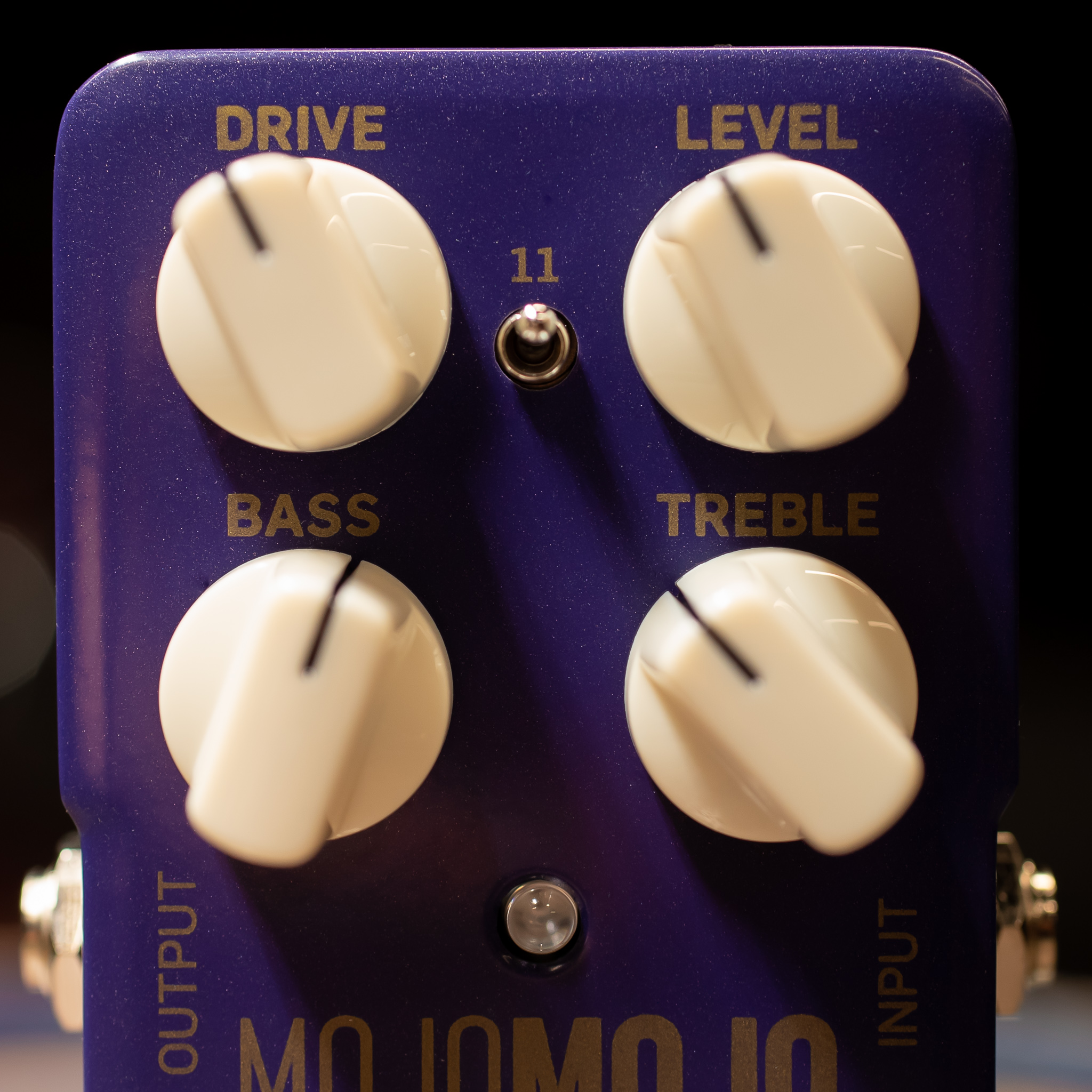 But This One Goes to Eleven
Paul always uses his original MOJOMOJO pedal with the same voice setting, so we swapped out the Voice switch for a new 11 switch. Flipping the 11 switch engages a massive gain boost for even more drive and attack. And believe us, this one really does go to 11 in that totally meaningful and wildly rocking Spinal Tap-like fashion, giving you that last push over the cliff!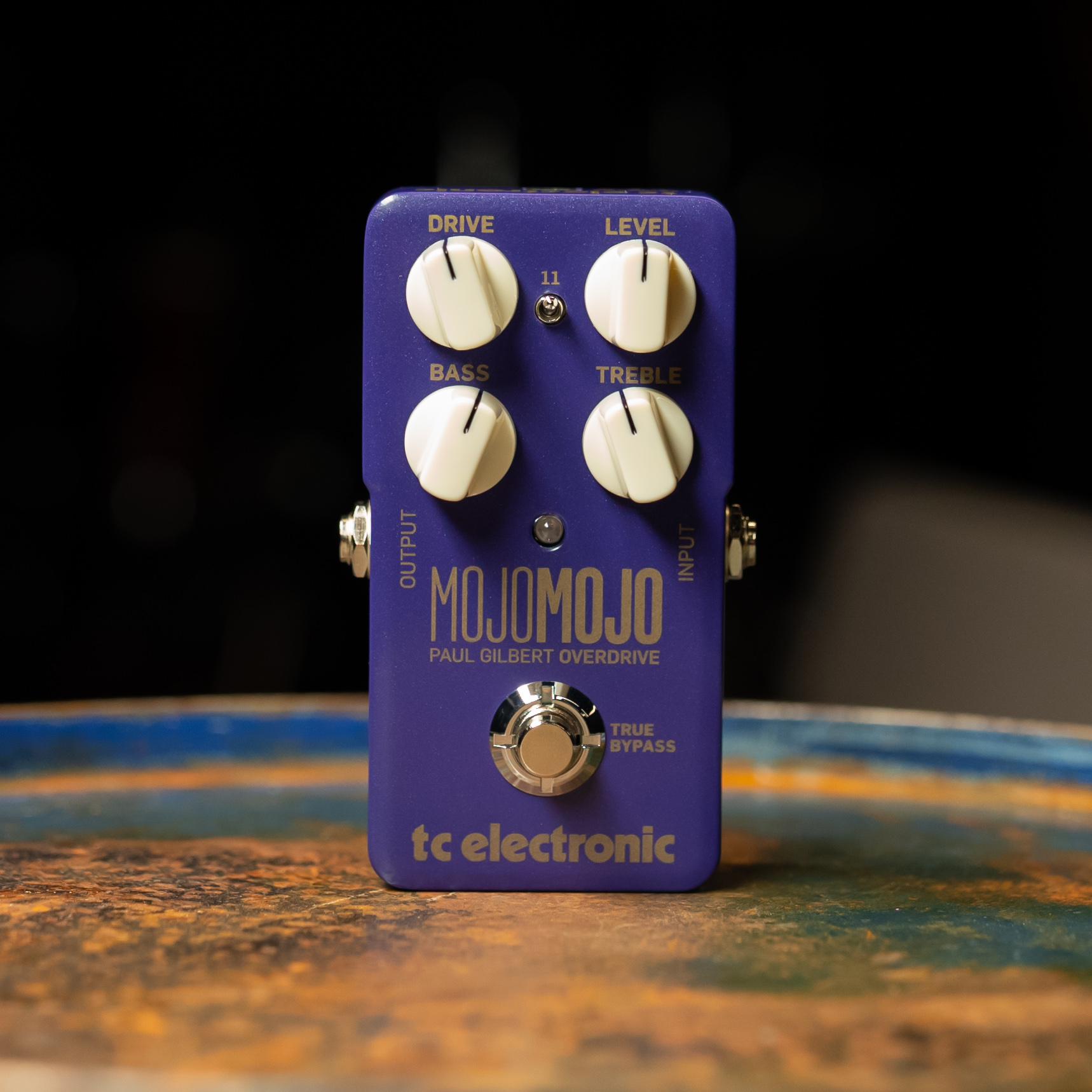 Warning! High Voltage Territory Ahead
We added stepped-up circuit board voltage to the MOJOMOJO PAUL GILBERT EDITION, giving you dramatically increased headroom and dynamics for an incredibly alive and soaring overdrive, keeping your tone crisp – but not toasted!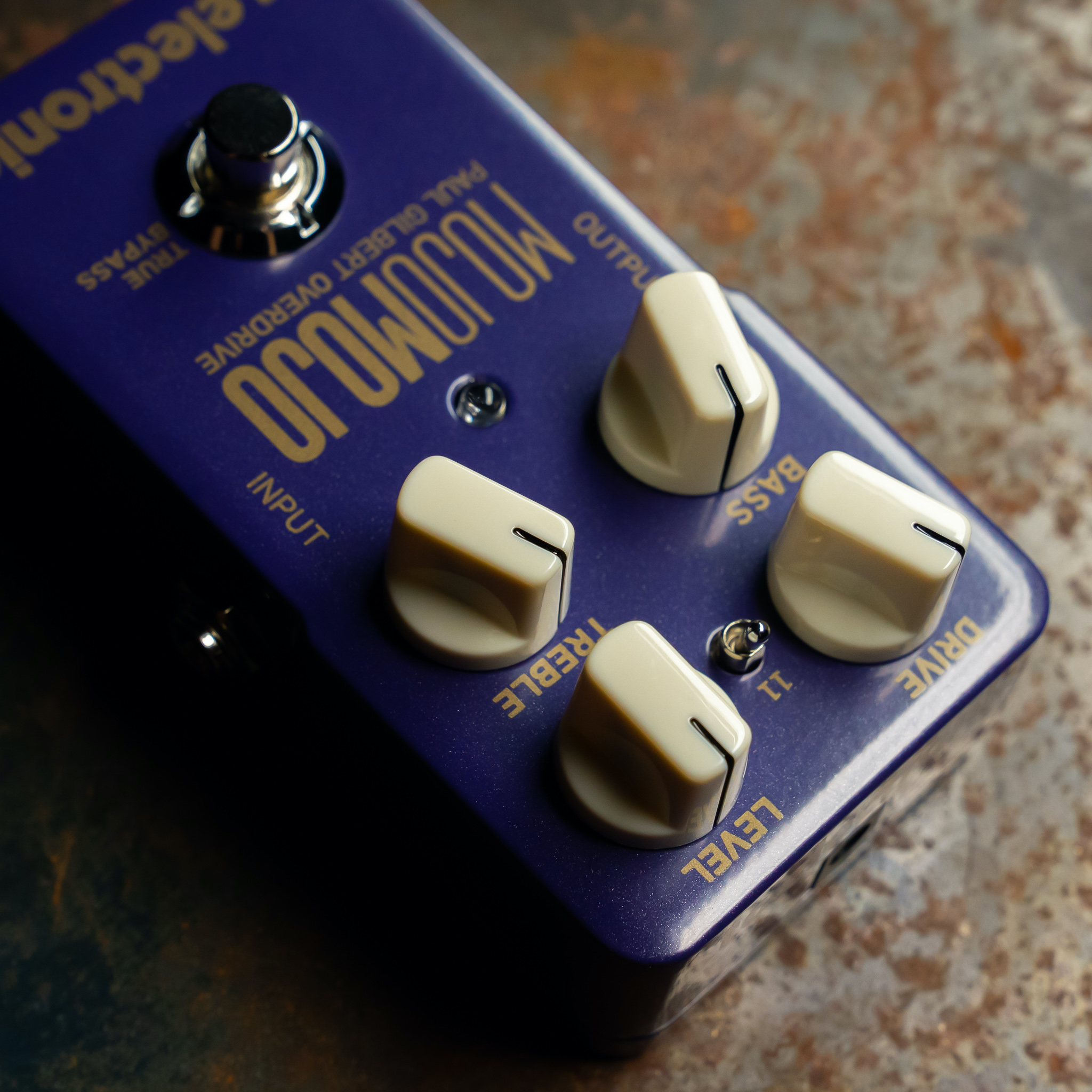 Walk This Way!
Let's take a quick walk around the controls of the MOJOMOJO PAUL GILBERT EDITION. On the ground floor, you find an extremely powerful active EQ to boost and shape treble and bass frequencies independently. And on the second floor, you get instant access to Drive and Level controls for fast and easy on-the-fly adjustments. Plug in. Tweak. Rock out! It's as simple as that.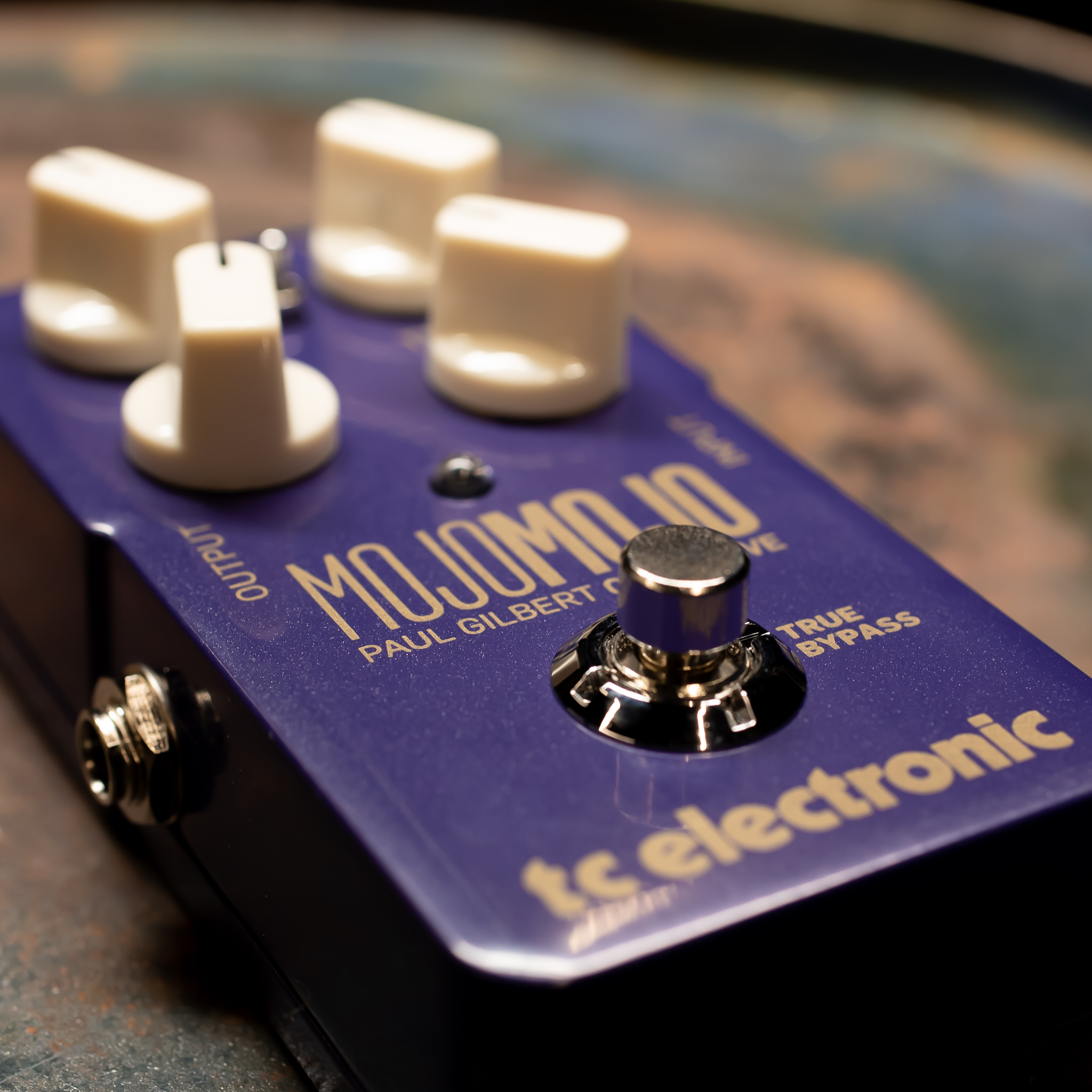 True Bypass
The MOJOMOJO PAUL GILBERT EDITION comes fully loaded with true bypass circuitry to ensure you retain all of your instruments signal integrity, whenever the pedal is disengaged.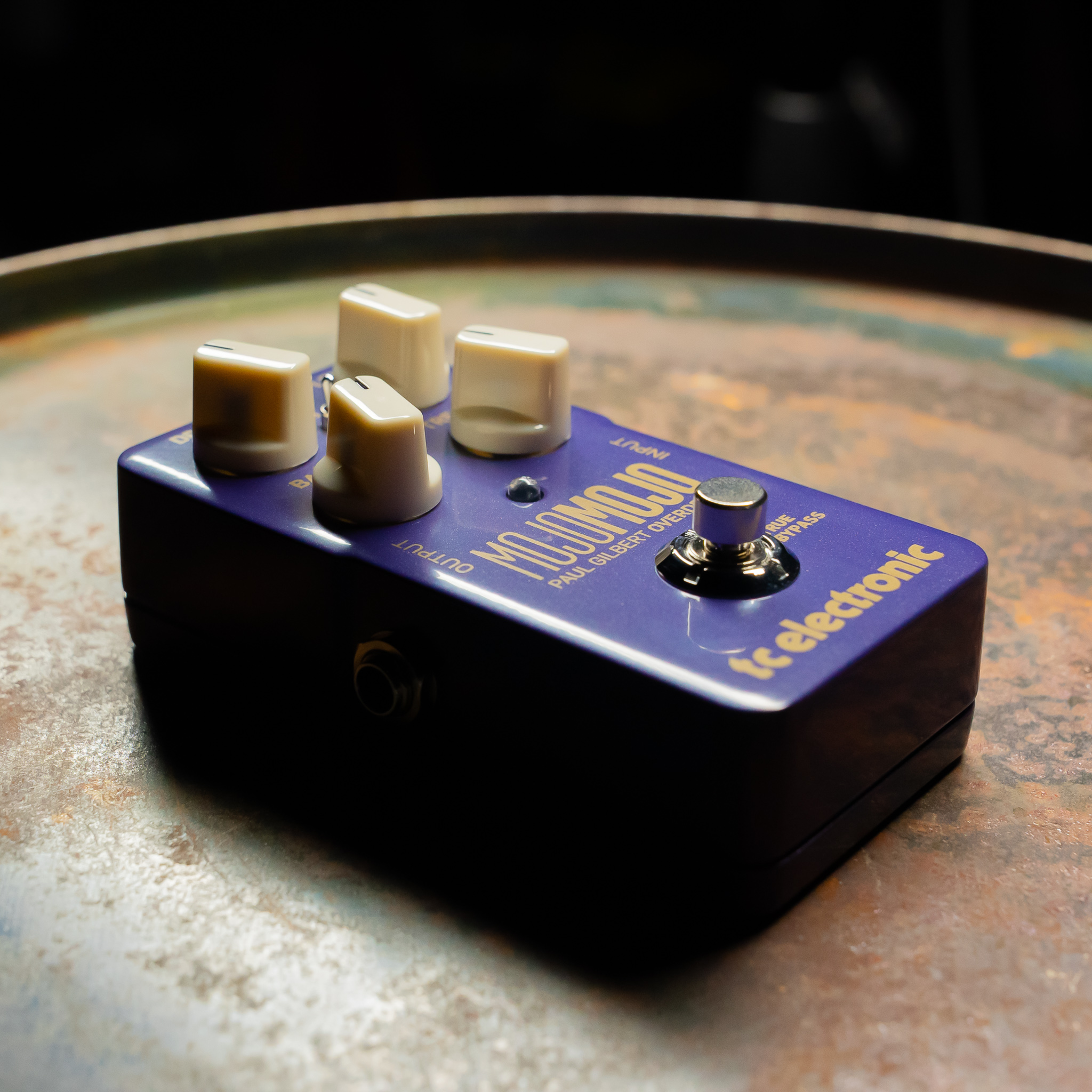 Built for Rock – Like A Rock!
If like Paul Gilbert, you spend most of your life playing guitar, you'll want reassurance that if your creative juices should get interrupted (god forbid!), it's not gonna be because of your pedals. MOJOMOJO PAUL GILBERT EDITION is constructed from high-quality components not only to give you extraordinary overdrive tones, but also to ensure you'll keep on rocking for years and years.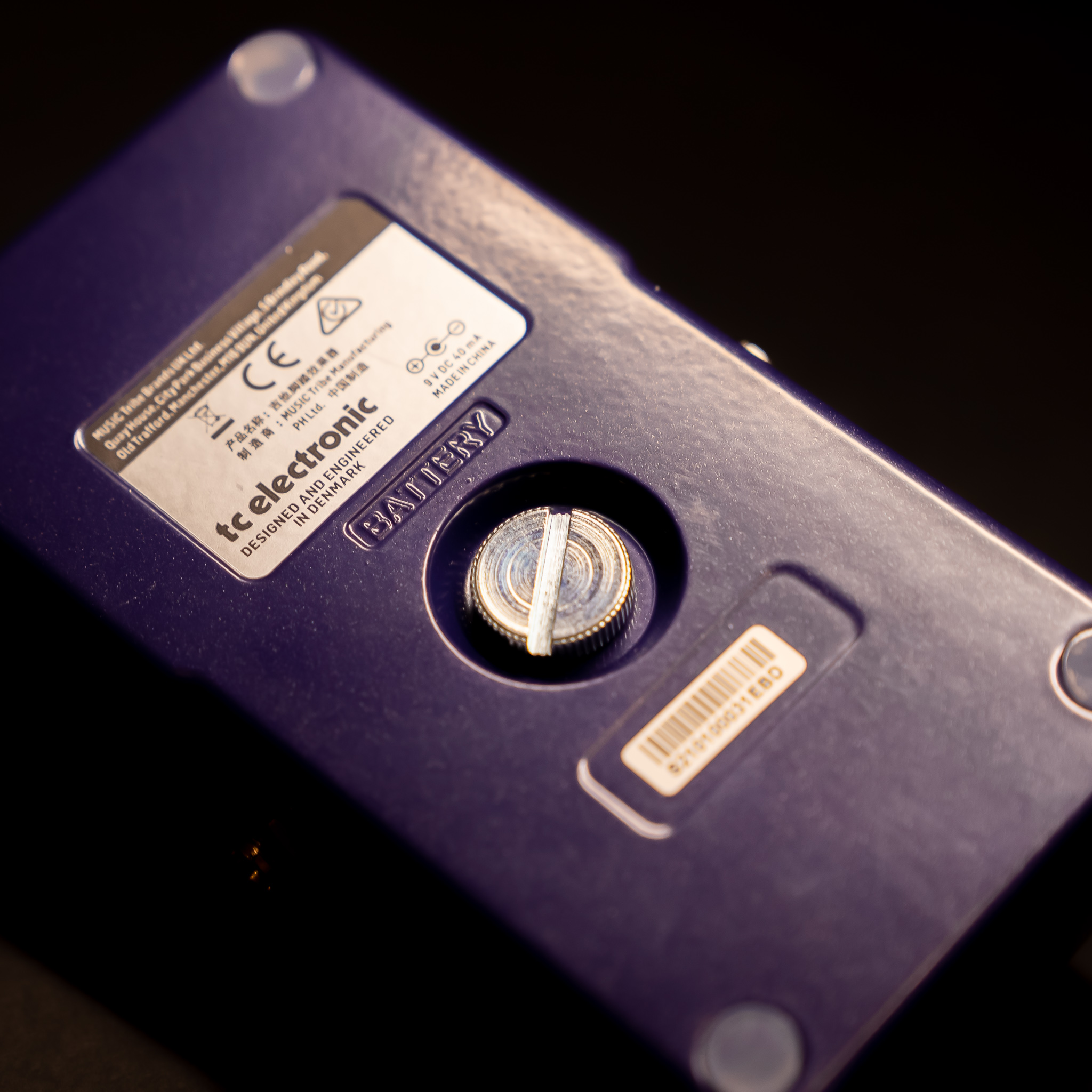 Two Ways to Power
To power your new MOJOMOJO PAUL GILBERT EDITION you can use a 9V battery or the 9V DC power input. If you choose a battery, we've given you very easy, one-screw battery compartment access. We know that if you run out of power mid song, you need to be able to swap the battery before the guitar solo! So, you can open the pedal simply by using a coin (or a solid pick), ensuring that rock won't have to wait long for you.