Tc Electronic Fluorescence Shimmer Reverb
Tc Electronic Fluorescence Shimmer Reverb
FLUORESCENCE SHIMMER REVERB เป็นหนึ่งในเอฟเฟกต์ที่คุณต้องเพิ่มลงในบอร์ดเอฟเฟคของคุณ เดิมทีบุกเบิกโดยการบันทึกเสียงระดับตำนานของ Daniel Lanois และ Brian Eno โดย shimmer reverb ทำให้เกิดเสียงที่เขียวชอุ่มที่ถ่ายทอดความมีชีวิตชีวา ตั้งแต่เสียงกังวานแบบยั่วยวนไปจนถึงเสียงที่เหมือนการเดินทางระหว่างดวงดาว ซึ่งทำให้ซาวด์ของเขาทั้งสองเป็นที่รู้จักและทำให้นึกถึงความทรงจำเกี่ยวกับ Cosmos ของ Carl Sagan ในขณะที่คุณเล่น
Tc Electronic Fluorescence Shimmer Reverb
Shimmering Reverb Pedal with Intuitive 4-Knob Interface for Modern, Ethereal Reverb Sounds
FLUORESCENCE SHIMMER REVERB
FLUORESCENCE SHIMMER REVERB is one of those effects you simply must add to your bag of tricks. Originally pioneered by recording legends Daniel Lanois and Brian Eno, shimmer reverb is produced by layering a tail of reverb (pitched up an octave) on top of the original dry signal. This produces lush soundscapes that take on a life of their known, ranging from voluptuous chimes, to interstellar travel-like sounds that will evoke memories of Carl Sagan's Cosmos while you're playing.

** กด"สั่งซื้อ/สอบถามข้อมูล" เพื่อติดต่อผ่าน Line @
กรุณาแจ้งรุ่นและสี ที่ต้องการครับ
Additional information
| | |
| --- | --- |
| Brands | Tc Eletronic |
| Instrument | Effect (เอฟเฟค) |
| Categories | Guitar&Bass Pedal (เอฟเฟคก้อน) |
SKU: TE-M03002 - Need Help? Contact Us Leave Feedback
Categories: Effect, Tc Electronic
Contact Us
Enter your contact details or email form shortcode here. (Text/HTML/Shortcodes accepted).
Leave Feedback
Enter your feedback modal content here. (Text/HTML/Shortcodes accepted).
Shimmering, super-bright reverb pedal sends you straight to shoegaze heaven
Effortlessly create celestial reverb sounds
Intuitive 4-knob interface including dedicated shimmer knob
True bypass for ultimate signal integrity
"Built-like-a-tank" metal chassis
Runs on 9 V battery or PSU-SB DC power supply (not included)
Designed and engineered in Denmark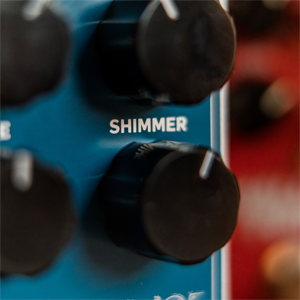 A String Section in Your Gig Bag
Used extensively by U2's The Edge, the shimmer effect has been adopted by scores of shoegaze guitar players for conjuring up huge, vibrant soundscapes, bursting with sparkling clarity.
Ever since U2 started working with producers Eno and Lanois, shimmer has found its way on to classic performances like
With or Without You, 4th of July, and City of Blinding Lights.
Wherever there's a need for grandiose string sections of ethereal presence to add body and scope to a passage,
FLUORESCENCE fits the bill.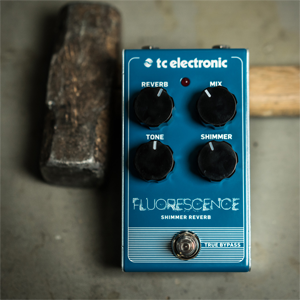 Truly Roadworthy
FLUORESCENCE SHIMMER REVERB is built to withstand the rigors of the road with a sturdy metal frame and high quality components. True bypass circuitry keeps the integrity of your signal free from any tonal coloration, while top-mounted jacks make it easy to fit on any pedal board.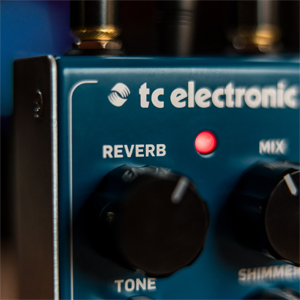 Control Simplified
With only 4 controls to master, FLUORESCENCE SHIMMER REVERB makes it easy to fine-tune your ethereal resonances in great depth. A Reverb knob adjusts the amount of tail on your dry signal for short or long resonances. The Mix knob lets you adjust the balance between the reverb tail and your guitar sound, while the Tone knob sets the amount of sparkle that's added to the reverb. Lastly, the Shimmer knob rolls in the perfect amount of sparkling, angelic octave tones to round out its thick and ethereal ambience.