Tc Electronic Drip Spring Reverb
Tc Electronic Drip Spring Reverb
DRIP SPRING REVERB จะนำโทนเสียงของคุณกลับไปสู่ความคลาสสิคที่ดีของ amp reverbไปสู่ฉากเซิร์ฟที่โดดเด่นของแคลิฟอร์เนียและการบันทึกเพลงบลูส์คลาสสิกที่สร้างประวัติศาสตร์ไว้นับไม่ถ้วน อย่างวงดนตรีเช่น The Shadows และ The Ventures ที่สร้างผลงานของพวกเขาด้วยเสียงกีต้าร์คลาสสิกที่ก้องกังวานอย่างมีเสน่ห์ Spring reverb แพร่หลายมากในการบันทึกเสียงแบบคลาสสิกแม้ว่าจะแทบจะไม่ให้เสียงสะท้อนที่เป็นธรรมชาติ แต่มันก็กลายเป็นส่วนสำคัญของเสียงของกีต้าร์ไฟฟ้ามาจวบจนถึงปัจจุบัน
Tc Electronic Drip Spring Reverb
Retro Spring Reverb with Adjustable Dwell, Mix and Tone for Sparkling Reverb Sound
DRIP SPRING REVERB
The single best way to give your dry guitar distinctive character and depth is to spice it up with a good spring
reverb. An homage to one of music's most recognizable reverb effects, DRIP SPRING REVERB instantly takes your tone back to the good old days of amp reverb, to the iconic California surf scene and the countless classic blues recordings that made history. Not to mention instrumental bands such as The Shadows and The Ventures, who built their careers on those classic reverberated guitar tones. Spring reverb was so ubiquitous on classic recordings that even though it's hardly a natural sounding reverberation, it has become a quintessential part of sound of the electric guitar.

** กด"สั่งซื้อ/สอบถามข้อมูล" เพื่อติดต่อผ่าน Line @
กรุณาแจ้งรุ่นและสี ที่ต้องการครับ
Additional information
| | |
| --- | --- |
| Brands | Tc Eletronic |
| Instrument | Effect (เอฟเฟค) |
| Categories | Guitar&Bass Pedal (เอฟเฟคก้อน) |
SKU: TE-M03005 - Need Help? Contact Us Leave Feedback
Categories: Effect, Tc Electronic
Contact Us
Enter your contact details or email form shortcode here. (Text/HTML/Shortcodes accepted).
Leave Feedback
Enter your feedback modal content here. (Text/HTML/Shortcodes accepted).
Authentic, dedicated spring reverb pedal
Simple 3-knob interface lets you tweak Dwell, Mix and Tone
Thrilling vintage-style reverb based on legendary spring technology
True bypass for ultimate signal integrity
"Built-like-a-tank" metal chassis
Runs on 9 V battery or the PSU-SB DC power supply (not included)
Designed and engineered in Denmark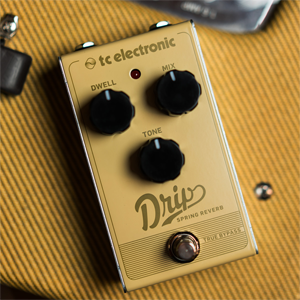 Legendary '60s Guitar Tone
DRIP SPRING REVERB gives your guitar the authentic sound of the classic spring reverb units found in the Fender amps of the '60s. When maxed out, the effect can be extremely lo-fi, or it can be applied more subtly to add the unmistakable character and charm that livens up any dry guitar sound. Whichever you choose, DRIP SPRING REVERB will help you carve out your own slice of sonic heaven.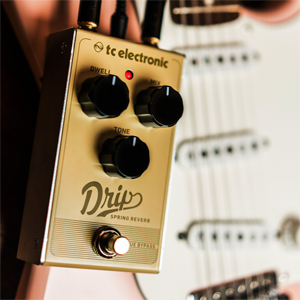 Dripping with Reverb
With an intuitive set of controls on board, DRIP SPRING REVERB can easily be dialed-in to satisfy a wide variety of reverb cravings. Tone lets you set how bright the reverberations are for either a clear, piercing sound or a more subdued and dark effect. Dwell sets the length of the reverb tail, for everything from a whisper to a wave crashing into a Californian coastal cavern. The Mix knob lets you dial in the perfect balance between the reverberated signal and your dry tone..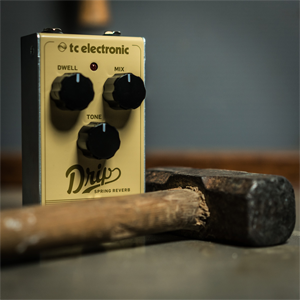 Hang Ten!
Built to withstand the test of time with a sturdy metal frame, DRIP SPRING REVERB will ensure you don't wipe out no matter how hard you go at it. Top-mounted jacks make it easy to fit on even the most crowded of boards, and the high quality true bypass circuitry keeps your signal clean and clear.