Korg Liverpool
Korg Liverpool
Your New Composing Assistant
Each time an original melody or tune comes to mind, it may often require substantial expertise, equipment, and time to turn that idea into a complete song in the same way that a professional musician or arranger might do. Korg's microARRANGER offers an easier way for you to enjoy the satisfaction of composing original music.
Even with modest keyboard skills, you can simply choose a musical Style to match your idea, tap in the tempo, hold down the chords with your left hand and pick out the melody with your the right hand, and listen as your musical idea takes shape! From the keyboard novice to the seasoned professional, the microARRANGER can transform your ideas into a more complete, fully realized, and more impressive song than you might ever imagine.

** กด"สั่งซื้อ/สอบถามข้อมูล" เพื่อติดต่อผ่าน Line @
กรุณาแจ้งรุ่นและสี ที่ต้องการครับ
Additional information
| | |
| --- | --- |
| Brands | Korg |
| Categories | Arranger Keyboard |
| Instrument | Synthesizer&Keyboard (คีย์บอร์ด) |
| Series | PA Arranger Keyboard |
SKU: 002-01144 - Need Help? Contact Us Leave Feedback
Categories: Keyboard&Recording, Korg
Contact Us
Enter your contact details or email form shortcode here. (Text/HTML/Shortcodes accepted).
Leave Feedback
Enter your feedback modal content here. (Text/HTML/Shortcodes accepted).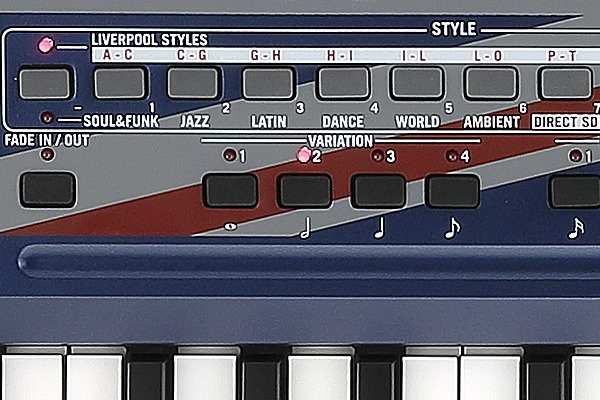 "Styles," a built-in interactive backing generator
Once you've experienced the songs, try using the Styles. Although you can enjoy the Liverpool as a music player simply by playing back these familiar songs, taking advantage of the styles will let you freely change the song structure and chords while you perform. Play back the "Liverpool Styles" which are arranged in alphabetical order just like the built-in songs, and add an accompaniment by using your left hand to play the chords. Each style has up to four functions, and also allows you to add an intro, fill, and ending. Since you can practice difficult passages such as just the intro or the bridge as many times as you like, you'll be able to keep trying until you've learned the entire song. This flexibility also lets you freely create new arrangements of your favorite songs that go beyond the "LP." Looking to use Liverpool in a live setting? You can jam on that solo from (insert song here) to keep your audience going, all to your heart's content. When you're ready, hit the ending button, wait for applause, and repeat.
Additional Styles, more musical roads to explore
In addition to the 64 Lennon & McCartney Styles, Liverpool also includes Styles inherited from the microARRANGER, KORG's compact and powerful arranger keyboard. Choose a Style in your favorite genre, play the chords in the left hand and melody in the right hand, and the ideas in your head will instantly take shape.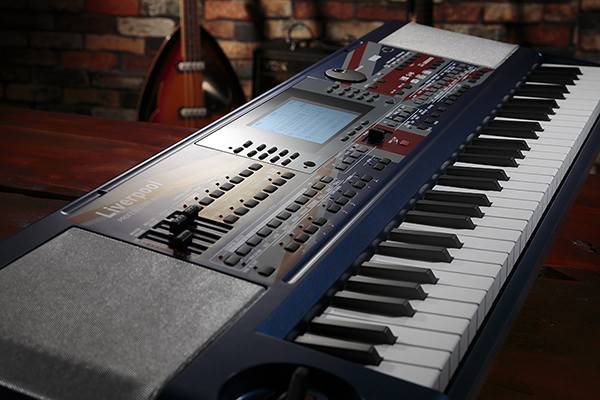 Bold panel design featuring a Union Jack
If you're ready to rock, don't settle for a drab color! The Liverpool is as deeply rooted in its look as it is in its content, with a panel sporting a bold British flag (Union Jack) design.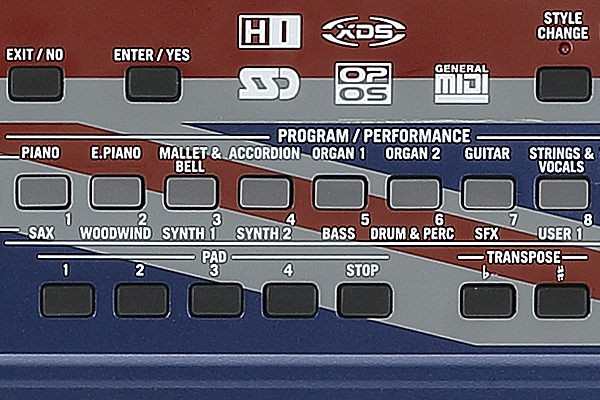 High-quality sounds that you can also use live
Although you can enjoy the Liverpool on your own, its high-quality sounds also make it a great choice as a keyboard for a band. With standard keyboard sounds such as piano, electric piano, and organ, as well as guitar, bass, strings, brass, and drum sounds that can also be used with the styles, this instrument is all you need to cover a wide range of sounds. Four stereo effects are also built-in, letting you add finishing touches to your overall sound from performance to output.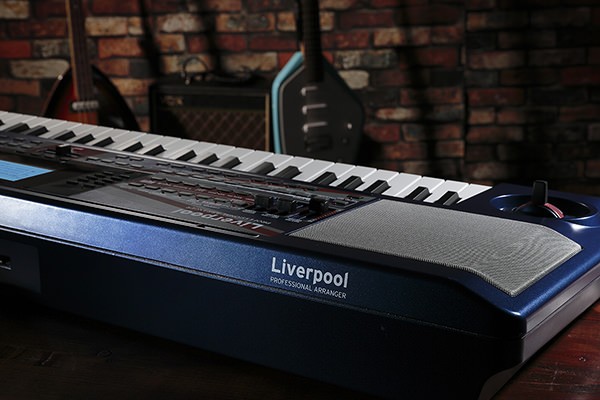 Built-in speakers, with a compact size and light weight for convenient portability
The Liverpool comes standard with stereo speakers. Even without using an amp or headphones, you can produce sound from the instrument itself. It's also compact; merely 88 cm wide and weighing only 4.2 kg. It doesn't require much space, and it's convenient to carry.