Epiphone Limited Edition Lee Malia Les Paul Custom
กีต้าร์ Epiphone Limited Edition Lee Malia Les Paul Custom
-หากจะพูดถึงวง Bring Me The Horizon วงฮาร์ดคอร์จากเกาะอังกฤษ คงจะไม่พ้นของการแสดงสดสุดมันส์ กับเพลงที่แจ้งเกิดในยุคแรกๆอย่าง Pray For Plagues , Chealsea Smile ,Diamonds Aren't Forever
-จนถึงปัจจุบัน ก็ยังมีเพลงที่ติดหูผู้ฟังอย่างมากกับเพลง True Friends, Follow You, Throne จากอัลบั้มใหม่ที่ทำให้วงได้รับรางวัลจากหลากหลายสถาบันอีกด้วย
-และจะพูดถึงจุดเด่นในเพลงของวง คงหนีไม่พ้น Riff กีต้าร์สุดเท่ของ Lee Malia มือกีต้าร์สุดเนิร์ดคนนี้อย่างแน่นอน  หากได้ดูในคอนเสิร์ตของ Bring Me The Horizon แล้ว เรามักจะเห็นเค้าเล่นกีต้าร์ ทรง Les Paul ของ Gibson เป็นประจำ และนั้นก็คือจุดเริ่มต้นของเค้ากับ กีต้าร์ Signature ของเค้าภายใต้การผลิตของ EPIPHONE กับทรง Les Paul โดยได้แนวคิดมาจาก Gibson Les Paul ในปี 1970 แบบ Vintage และ Shape คือเป็นแบบ "1959" C-Profile Neck ที่เค้าชอบ Pick up ที่เป็นของ Gibson ที่ให้คุณภาพอย่างสมบูรณ์แบบ

** กด"สั่งซื้อ/สอบถามข้อมูล" เพื่อติดต่อผ่าน Line @
กรุณาแจ้งรุ่นและสี ที่ต้องการครับ
Additional information
| | |
| --- | --- |
| Body Types | Les Paul |
| Brands | Epiphone |
| Instrument | Guitar Electric |
| Colors | Walnut Rosewood Neck |
SKU: 043-05317-3WL - Need Help? Contact Us Leave Feedback
Categories: Electric, Epiphone, Guitar
Contact Us
Enter your contact details or email form shortcode here. (Text/HTML/Shortcodes accepted).
Leave Feedback
Enter your feedback modal content here. (Text/HTML/Shortcodes accepted).
Epiphone Limited Edition Lee Malia Les Paul Custom
-Ltd. Ed. Lee Malia Signature Les Paul Custom – With Gibson USA pickups and coil-splitting
-Epiphone is proud to announce the Ltd. Ed. Lee Malia Signature Les Paul Custom. Inspired by the 70s era vintage classic Les Paul Artisan, the new Lee Malia Signature Les Paul Custom features a totally unique pickup combo of a Gibson P-94 in the rhythm position and a Gibson 84T-LM™ humbucker with coil-splitting in the bridge position.
A Classic Remade for the 21st Century
The Lee Malia Les Paul Custom was inspired by the Les Paul Artisan, a now-rare 70s classic. The Lee Malia Les Paul Custom features a Walnut Gloss finish with a Maple top and a Mahogany body cut to the same dimensions of all classic Les Pauls. The body has 7-layer binding on the front and back in Ivory and Black. The black pickguard has 3-layer black and white binding.
Malia choose the Mahogany neck, which has a 1959 Rounded C-Profile shape with a 12" radius and a 24.75" scale. The fingerboard has a 70s era "Artisan" floral pattern in pearloid with a single layer of Ivory binding. The Ivory nut is made from artificial bone material and has a standard 1.68" width.
Gibson USA Pickups
For his signature Les Paul, Lee Malia choose a unique combination of Gibson pickups. The neck pickup features a Gibson USA P-94™ single coil pickup (also a favorite of Mr. Les Paul himself). The bridge pickup features a hot-wound Gibson USA 84T-LM™ humbucker, which breaks up easily with any amp. The humbucker also features coil-splitting, which is activated via the bridge pickup's push/pull volume control. Both pickups are controlled by a standard 3-way all-metal Epiphone white toggle switch with Black Tophat controls with metal inserts and volume and tone for each pickup.
"With the pickup configuration, you can pretty much do anything," said Malia. "With coil-splitting you can get the sound of any guitar you can imagine. It's really good if you're writing a clean section, too. You can also get a nice tone straight into a computer. You don't have to use an amp mod to get it to sound good. It's just a really nice guitar. I'm so proud of it."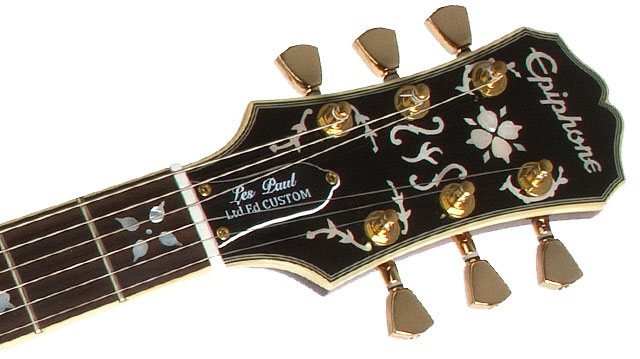 Classic Gold Epiphone Hardware
The Ltd. Ed. Lee Malia Signature Les Paul Custom comes with Epiphone's world renowned hardware including a gold LockTone™ Tune-o-matic bridge and gold Stopbar tailpiece. Other hardware features include Epiphone's exclusive non-rotating heavy duty output jack, straplocks, and gold premium die-cast machine heads with metal "tulip" buttons with a 14:1 tuning ratio. An optional hard case is also available.
The "clipped ear" headstock is also familiar to all Les Paul fans and has the classic Epiphone scroll logo in pearloid with 5-layer binding in Ivory and Black. The headstock also has the vintage style Artisan floral pattern inlaid in pearloid with a black "bell" shaped truss rod cover in black and white with Les Paul Ltd. Ed. Custom in white. Lee Malia's signature is on the back of the headstock along with the Epiphone Limited Edition logo.
Lee Malia Les Paul Custom

Limited Edition  Lee Malia Signature Les Paul Custom
With Gibson USA pickups and coil-splitting
Body:
Mahogany, Maple Top7-Layer Body;
Front and Back (Ivory/Black)
Neck:
Mahogany w/Rosewood Fingerboard.
Floral Pattern in Pearloid Inlays 12" Radius
"1959" Rounded; C-Profile
5-Layer Headstock (Ivory/Black)
1-Layer Fingerboard (Ivory)
Frets:
22
Pickups:
Gibson USA P-94™ Single Coil (Neck)
Gibson USA 84T-LM™ Humbucker (Bridge)
Controls:
2 Volume, 2 Tone, 3-way switch
Hardware:
LockTone™ Tune-O-Matic Bridge,
LockTone™ Stopbar Tailpiece,
Premium Diecast with Metal "Tulip" Buttons
Machine Head
Case:
N/A