Epiphone 1958 Goth Explorer
Epiphone 1958 Goth Explorer
The Goth '58 Explorer ทำให้เกิดรูปลักษณ์ใหม่ของวินเทจที่ทุกคนชื่นชอบด้วยสี Pitch Black จนกลายเป็นอัศวินดำของคอลเลกชันของ Goth ของเรา กีต้าร์ในตำนานอย่าง Explorer นั้นถูกเปิดตัวขึ้นในปี 1958 ในความเป็นจริง Explorer นั้นเป็นเหมือนการเดินทางที่ต่างไปจากเดิมอย่างสิ้นเชิง ตำนานโรงงานคาลามาซู สิ่งที่เหลืออยู่เพียงไม่กี่ชิ้นตอนนี้ถือว่าเป็นของสะสมที่ขายได้มากถึง 500,000 เหรียญ ตอนนี้ Epiphone นำตำนานอันไม่ซ้ำแบบใครด้วยรูปลักษณ์ใหม่ทั้งหมด
Epiphone 1958 Goth Explorer
The Goth '58 Explorer puts a new twist on a vintage favorite with a Pitch Black color finish to become the dark knight of our Goth collection. With its angular, asymmetrical body and pointed headstock, the legendary Explorer was light years ahead of its time when it was first introduced in 1958. In fact, the Explorer was such a radical departure that only around 100 of the famed instruments were produced at the legendary Kalamazoo factory. What few originals remain are now highly prized collectibles selling for $500,000. Now, Epiphone brings back the one-of-a-kind legend with a whole new look.
The Goth '58 Explorer features our Limited Lifetime Warranty backed by world famous 24/7/365 Gibson Customer Service. Visit an Authorized Epiphone Dealer today and visit the dark side with the Goth '58 Explorer.

** กด"สั่งซื้อ/สอบถามข้อมูล" เพื่อติดต่อผ่าน Line @
กรุณาแจ้งรุ่นและสี ที่ต้องการครับ
Additional information
| | |
| --- | --- |
| Body Types | Designer |
| Brands | Epiphone |
| Instrument | Guitar Electric |
| Colors | Pitch Black Rosewood Neck |
SKU: 043-05053-PB - Need Help? Contact Us Leave Feedback
Categories: Electric, Epiphone, Guitar
Contact Us
Enter your contact details or email form shortcode here. (Text/HTML/Shortcodes accepted).
Leave Feedback
Enter your feedback modal content here. (Text/HTML/Shortcodes accepted).
The Goth '58 Explorer features a mahogany body using the same dimensions as the original. The Goth '58 includes a glued hand-set mahogany neck with a 24.75" scale, a SlimTaper™ profile. The fretboard as a 12" radius, a 1.68" nut and features a pearloid 'XII' fret marker at the 12th fret.
Goth Power Humbuckers
The power of the Goth '58 comes from our Alnico Classic™ humbuckers, which have all the subtle tonal colors and demonic growl found in original PAF humbuckers.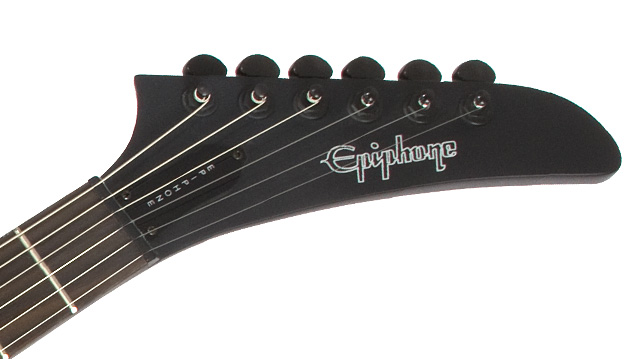 Pro Hardware All the Time
Like all Epiphones, the Goth '58 comes with all-metal hardware made to last a lifetime. Along with premium die-cast tuners, the Goth '58 includes our LockTone™ Tune-O-Matic StopBar bridge. The Goth '58 also features full function volume knobs for each pickup and a master tone knob, all using full-size 500K O potentiometers.
Based on vintage Explorer
Color : Satin Black
Body:
Mahogany
Neck:
Mahogany
Slimtaper "D" Profile, 24.75 Scale, Nut 1.68
Frets:
22
Pickups:
Alnico Classic™ humbucker (Neck)
Alnico Classic™ humbucker (Bridge)
Controls:
Neck Volume, Bridge Volume, and
Master Tone and Full size 500k
 O Potentiometers
Hardware:
LockTone™ Tune-O-Matic Bridge,
 StopBar Tailpiece,
Premium die-cast 14:1 Tuner
Weight:
7.9 lbs
String:
D'Addario® 10, 13, 17, 26, 36, 46
Case:
N/A