Squier Affinity Series Precision Bass PJ
Squier Affinity Series Precision Bass PJ
Squier Affinity Series Precision Bass PJ นำเสียงและสัมผัสแบบ Fender P Bass คลาสสิกมาสู่มือคุณในราคาที่น่าทึ่ง โดดเด่นด้วยไม้บอดี้ที่มีน้ำหนักเบาและกังวาน เบสนี้จึงเป็นมิตรกับผู้เล่นที่ต้องการแสดงนานหลายชั่วโมง การผสมผสานระหว่างปิ๊กอัพเบสแบบ Precision และ Jazz bassซึ่งเป็นคุณลักษณ์ที่โดดเด่นในรุ่นนี้ โดยให้โทนเสียง Fender แบบวินเทจที่ชนะใจผู้เล่นมากมายตลอดหลายทศวรรษที่ผ่านมา และเนื่องจากปิ๊กอัพแต่ละตัวมีปุ่มปรับระดับเสียงและปุ่มปรับโทนเป็นของตัวเอง คุณจึงปรับแต่งโทนเสียงได้ตามต้องการ Affinity Series Precision PJ โดดเด่นด้วยคอทำจากไม้เมเปิลและฟิงเกอร์บอร์ดลอเรล 20 เฟรต เพื่อการเล่นที่รวดเร็ว สะดวกสบาย รวมถึงยังใช้ฮาร์ดแวร์ที่มีคุณภาพสูงเพื่อให้เครื่องดนตรีนี้ดูน่าทึ่งในราคาที่สบายกระเป๋า
Squier Affinity Series Precision Bass PJ
The Squier Affinity Series Precision Bass PJ puts classic Fender P Bass tone and feel into your hands at an amazing price. Featuring a lightweight, resonant polar body, this bass is friendly on the back for hours of performance. The combination of Precision and Jazz bass pickups in this stellar bass gives you the vintage, gritty Fender tone that has won over so many players over the decades. And since each pickup has its own volume knob and master tone knob, you can tweak your tone to your preference. The Affinity Series Precision PJ features a maple neck and 20-fret laurel fingerboard for fast, comfortable playing and wide-open stylistic exploration. Vintage-looking tuners compete the setup on this stunning instrument.

** กด"สั่งซื้อ/สอบถามข้อมูล" เพื่อติดต่อผ่าน Line @
กรุณาแจ้งรุ่นและสี ที่ต้องการครับ
Additional information
| | |
| --- | --- |
| Brands | Squier |
| Instrument | ElectricBasses |
| Body Types | Precision Bass |
| Series | Affinity Series |
| Colors | Black Maple Neck, Charcoal Frost Laurel Neck, Lake Placid Blue Indian Laurel Neck, Olympic White Maple Neck |
SKU: N/A - Need Help? Contact Us Leave Feedback
Contact Us
Enter your contact details or email form shortcode here. (Text/HTML/Shortcodes accepted).
Leave Feedback
Enter your feedback modal content here. (Text/HTML/Shortcodes accepted).
FEATURES
Slim and comfortable "C"-shaped neck profile
Split single-coil P Bass neck pickup, single-coil J Bass bridge pickup
4-saddle bridge
Vintage-style tuning machines
Satin neck finish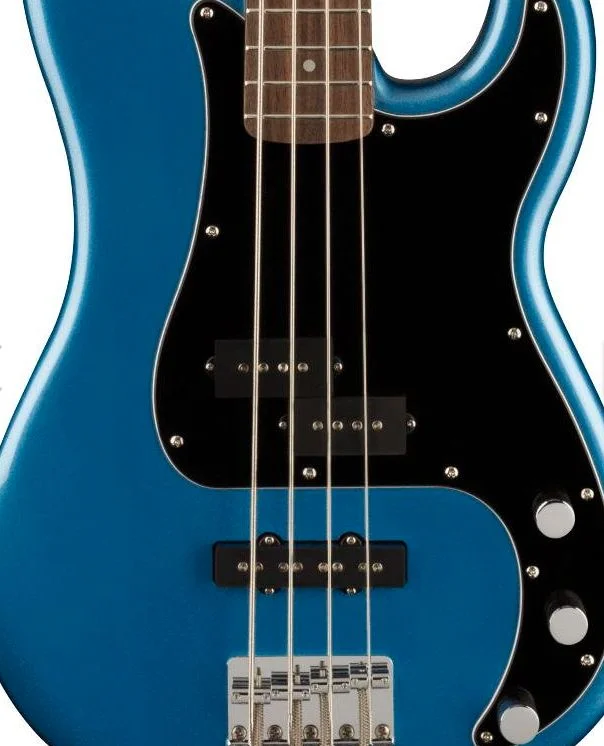 Precision Bass and Jazz Bass pickup combo offers versatile tone
Giving you the best of both Fender Bass worlds, the Affinity Series PJ arms you with tonal versatility. The split-coil P Bass pickup gives you an aggressive, meaty tone, while the J Bass single-coil pickup delivers a crisp, full-bodied sound for a bass that is balanced, versatile, and classic Fender all the way. Bassists at Sweetwater love having a bass like this in their instrument arsenal — it can suit a range of styles and playing situations.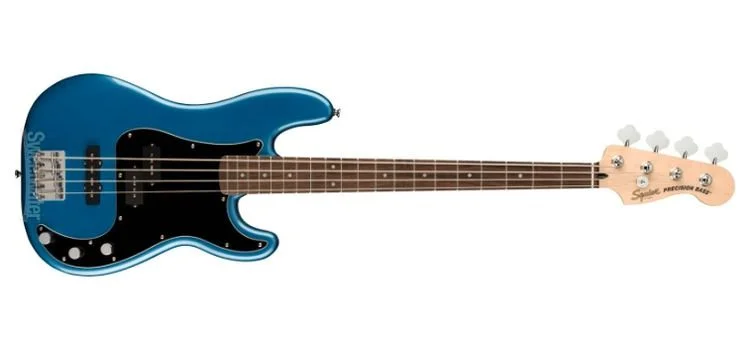 Neck designed for fast, comfortable playing
Made from solid maple with a laurel fingerboard, the neck on Squier's Affinity Series Precision Bass PJ is designed for fast playability and stellar response. The 20 medium jumbo frets provide you with added playing comfort, keeping hand and finger fatigue at bay while producing wonderful tone.
Affinity Series Precision Bass PJ

Body:
Poplar (Gloss Polyurethane Finish)
Neck:
Maple, "C" Shape w/Indian Laurel Or Maple
Fingerboard, 9.5″ Radius, Satin Urethane-
Neck Finish
Frets:
20 Medium Jumbo
Pickups:
Ceramic P style Split Single-coil (Neck)
Ceramic J style Single-coil (Bridge)
Controls:
2 Volume, Master Tone
Hardware:
4-Saddle Standard Bridge, Vintage Style
Tuning Machine, Chrome
String:
Nickel Plated Steel (.045-.105 Gauges)
Case:
N/A