Music man Jason Richardson 7-String Cutlass
Music man Jason Richardson 7-String Cutlass
Ernie Ball Music Man Jason Richardson Artist Series เป็นความร่วมมือล่าสุดระหว่างทีมออกแบบErnie Ball Music Man ที่ได้รับรางวัลและนักกีต้าร์, นักแต่งเพลงที่มีความสามารถหลากหลายอย่างJason Richardson Richardson จนเกิดเป็น Artist Series บนโมเดล Cutlass โดยนำเสนอคุณลักษณะและความสวยงามที่เป็นเอกลักษณ์ ซึ่งจะทำให้ผู้เล่นได้เห็นรูปลักษณ์ใหม่ของรุ่นยอดนิยมที่สุดของเราโดยเฉพาะ
Music man Jason Richardson 7-String Cutlass
The Ernie Ball Music Man Jason Richardson Artist Series Cutlass guitar is the latest collaboration between the award-winning Ernie Ball Music Man design team and the multitalented virtuoso guitarist and composer Jason Richardson. Featuring innovative design characteristics engineered specifically for Jason's exacting technique, the Richardson Artist Series Cutlass offers unique features and aesthetics that will give players a fresh look at one of our most popular models.

** กด"สั่งซื้อ/สอบถามข้อมูล" เพื่อติดต่อผ่าน Line @
กรุณาแจ้งรุ่นและสี ที่ต้องการครับ
Additional information
| | |
| --- | --- |
| Brands | Music man |
| Instrument | Guitar Electric |
| Colors | Rorschach Red Ebony Neck |
SKU: N/A - Need Help? Contact Us Leave Feedback
Categories: Electric, Guitar, Music Man
Contact Us
Enter your contact details or email form shortcode here. (Text/HTML/Shortcodes accepted).
Leave Feedback
Enter your feedback modal content here. (Text/HTML/Shortcodes accepted).
CUSTOM ERNIE BALL MUSIC MAN ELECTRONICS
CUSTOM 7-STRING HUMBUCKING BRIDGE AND NECK PICKUPS.
SELECT EXOTIC BURL TOP
LIGHTWEIGHT ALDER BODY WITH EXCLUSIVE BUCKEYE BURL TOP.
EXTENDED CUTAWAY
CUSTOM CONTOURED LOWER HORN FOR MORE ACCESS TO ALL 24 FRETS.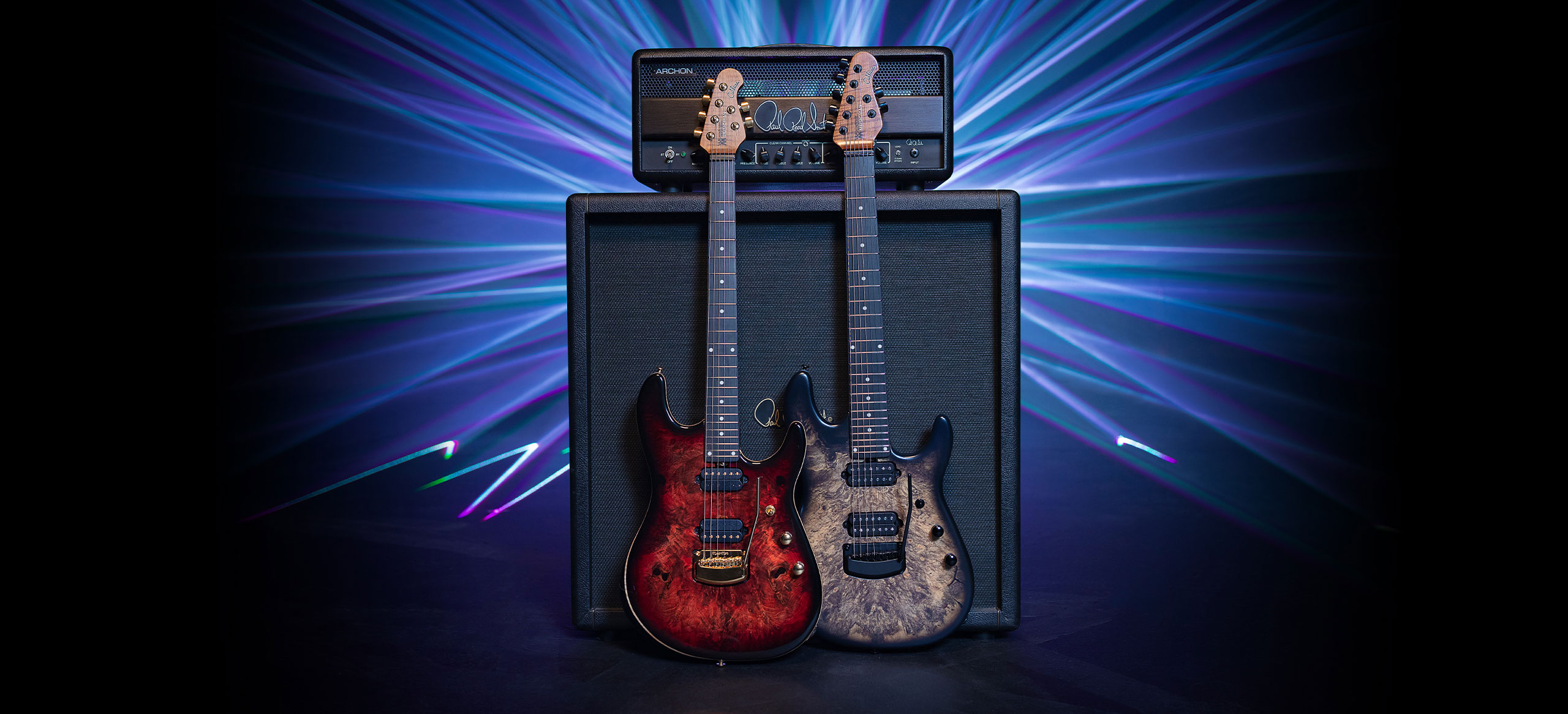 6 & 7-STRING
The Jason Richardson artist series 6 and 7 string Cutlass guitars feature translucent alder bodies with figured burl tops in your choice of two finish options. The new Rorschach Red finish is highlighted with natural 3/16th inch wood binding, gloss finish, and gold hardware while the standard matte Buckeye Burl is furnished with black pickups and hardware.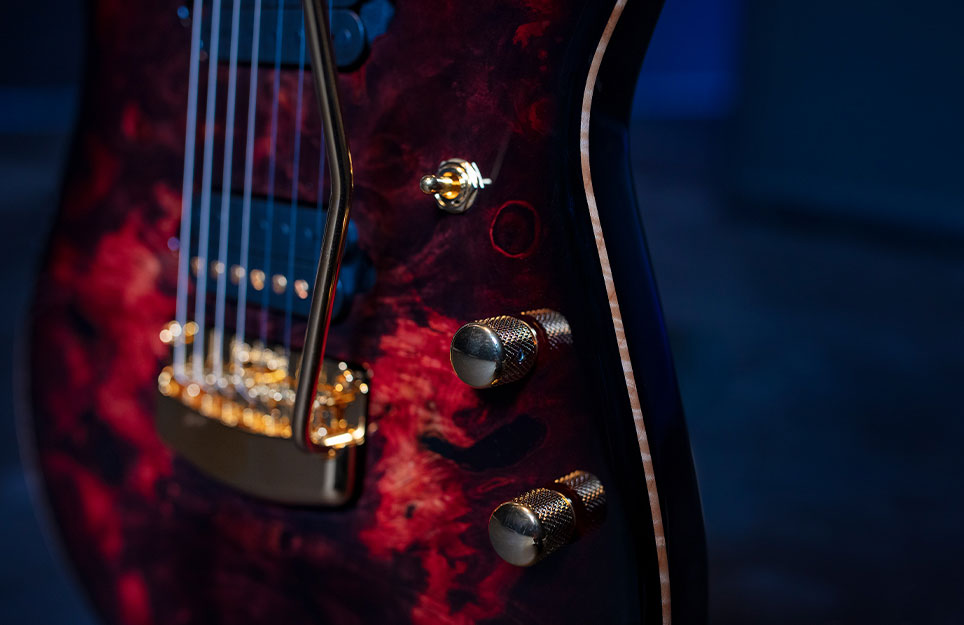 ENGINEERED TO PERFORM
DESIGNED TO PERFECTION
The Jason Richardson Cutlass features a perfectly balanced lightweight double-cutaway body design, allowing unparalleled access to all 24 medium jumbo frets. Additionally, the roasted maple neck is hand shaped with a shallow neck carve for very fast playability.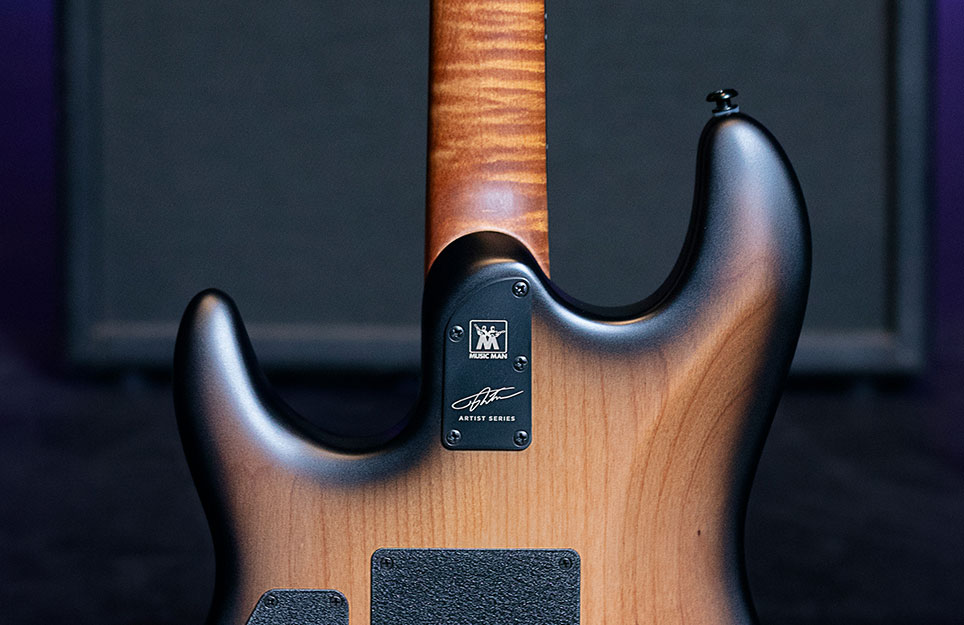 FINEST MATERIALS
Hand-selected body and neck woods are sustainably sourced from our network of hardwood suppliers around the world. Alder, burl, and maple are individually chosen and matched for their beautiful appearance and rich tonal qualities.
Jason Richardson
7-String
Color : Rorschach Red
Body:
Alder, Buckeye Burl Top (High gloss polyester)
Neck:
Figured Roasted Maple, Ebony Fingerboard,
15″ Radius, Dot inlay Inlays, Gunstock Oil-
and Hand-Rubbed Special Wax Blend Neck
Finish
Frets:
24 – Medium Jumbo profile, Stainless Steel
Pickups:
HH – Music Man Custom 7 string humbucking
Pickups, Ceramic Magnets
Controls:
Custom Music Man active preamp w/ Silent
Circuit; 25kohm push/push volume POT for
gain boost, 500kohm push/push tone POT
for pickup coil splitting – 0.022uf tone cap;
3-way pickup selector switch
Hardware:
Custom 7-string Music Man® floating tremolo,
made of black or plated, hardened steel with
gold plated steel saddles Bridge, Schaller-
M6-IND Locking Tuners, Gold
String:
10p-13p-17p-26-36-46-56 (RPS 10 Slinkys #2240
with added P01156)
Case:
Music Man Hardshell Case