Korg Miku Stomp
Korg Miku Stomp
Sing with your guitar!
A world-wide first! MIKU STOMP, the new voice
Hatsune Miku sings when you play your guitar!
A design that fuses the worlds of Hatsune Miku and guitar effects.
Nearly unlimited possibilities; 11 lyric patterns are provided.
Lyrics for "Senbonzakura" (a Japanese song) are preset.
An iPhone app for entering lyrics is available, so you can make MIKU STOMP sing your original lyrics.

** กด"สั่งซื้อ/สอบถามข้อมูล" เพื่อติดต่อผ่าน Line @
กรุณาแจ้งรุ่นและสี ที่ต้องการครับ
Additional information
| | |
| --- | --- |
| Brands | Korg |
| Categories | Guitar&Bass Pedal (เอฟเฟคก้อน) |
| Instrument | Effect (เอฟเฟค) |
SKU: 002-03098 - Need Help? Contact Us Leave Feedback
Categories: Effect, Korg, Sale
Contact Us
Enter your contact details or email form shortcode here. (Text/HTML/Shortcodes accepted).
Leave Feedback
Enter your feedback modal content here. (Text/HTML/Shortcodes accepted).
Miku sings when you play your guitar!
MIKU STOMP is a compact effect unit for guitar that lets Hatsune Miku sing according to your guitar playing. Just connect your guitar, and Hatsune Miku sings when you play. The vocal synthesis technology at the heart of the sound is eVocaloid™, a vocalzing effect based on Yamaha's next-generation NSX-1 sound engine. Using your guitar to control Hatsune Miku's vocals is an easy way to obtain a richly expressive performance that has a different character than when using step-recording or a keyboard.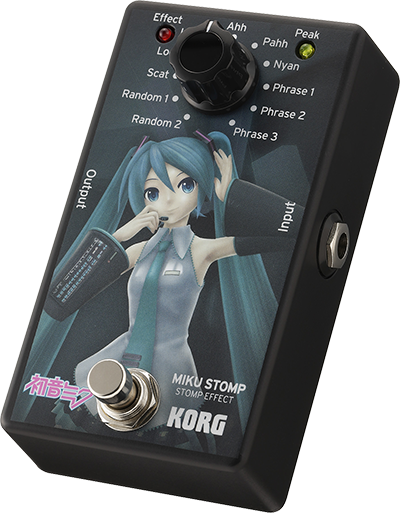 Design incorporates an original illustration of Hatsune Miku
The aluminum diecast body of this compact effect carries a specially commissioned original illustration. The design achieves a fusion of Hatsune Miku's world and the world of guitar effects. Whether you place it on a table or include it in your effect pedalboard, MIKU STOMP will certainly make your performance stand out!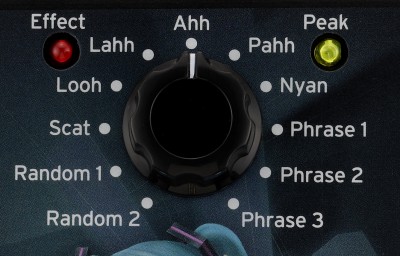 Nearly unlimited possibilities with 11 different lyric patterns
Eleven different lyric patterns are provided with MIKU STOMP, including a user pattern that lets you enter your own lyrics and a random pattern that automatically connects words to create lyrics, as well as basic patterns like "aah" or "laa." The performance possibilities are nearly endless: you can use the random pattern to enjoy performing a vocal without having to enter lyrics, use the user pattern to enter and perform your own original song, or use the "aah" or "laa" patterns to add a chorus to your vocal.