Korg Kronos LS 88 Keys "Dark Brown"
KORG KRONOS LS
คีย์บอร์ดที่ออกแบบใหม่เพื่อความง่ายในและ Feeling ที่ดีในการเล่น,
KRONOS LS ช่วยให้คุณใช้คีย์ได้ 88 คีย์เต็มๆในน้ำหนักคีย์ที่ Perfect และพลังของ KRONOS 2 ได้ทุกที่ด้วยน้ำหนักที่เบากว่า Kronos 2 ครึ่งนึง
Keys แบบใหม่ที่ให้สัมพัสที่นุ่มนวลและคล่องตัว
คีย์บอร์ดแบบสัมผัสแบบใหม่ของ KORG ช่วยให้เล่นได้ง่ายมากยิ่งขึ้นจากการ  ด้วยการออกแบบใหม่ของลิ่มคีบอร์ด Korg RH3 ที่เป็นลิ่มระดับ Premium จะให้มีความนุ่มนวลและต่อเนื่องในการเล่นได้ดียิ่งขึ้น
น้ำหนักเบากว่า  Korg Kronos 2 ถึงครึ่งหนึ่ง
ลิ่มคีบอร์ดKorg RH3 ที่ออกแบบใหม่ทำให้ Kronos LS มีน้ำหนักเบากว่า KRONOS2-88 ด้วยน้ำหนักเพียง 17 กิโลกรัม ทำให้ง่ายต่อการเคลื่อนที่ได้ดียิ่งขึ้น
ระบบปฏิบัติการใหม่ OS v3.1 ประกอบด้วยฟังก์ชัน Quick Layer / Split Functions ที่ง่ายยิ่งขึ้น
ใน Os ใหม่ทำให้การสร้าง Layer ในการ Split (ผสมเสียง) ได้ง่ายสามารถผสมเสียงได้ไม่ว่าจะเป็นเสียง Piano ผสม Strings และสามารถแยก Part ออกจากกันโดยจำกัดเป็น Octave ได้อีกด้วย
รูปลักษณ์ใหม่และความรู้สึกใหม่ ๆ
ด้วยบิดี้ของคีบอร์ดที่เป็น aluminum สีเข้ม และขอบไม้สี Sunburst ที่สวยงาม
KRONOS LS ได้รับการออกแบบมาให้สวยงามที่สุด และมีรูปลักษณ์อันหรูหราที่เหมาะสำหรับเวทีและสตูดิโอ
With a newly-designed light touch keyboard for effortless playability, KRONOS LS lets you take a full-sized keyboard - and the power of KRONOS - anywhere.
Packed with nine versatile sound engines, up to 16 simultaneous effects, 16-part Combinations and so much more, KRONOS is KORG's most powerful synthesizer ever. To further unlock KRONOS' potential, KORG introduces a new light-touch 88-key model for a new level of playability - and portability

** กด"สั่งซื้อ/สอบถามข้อมูล" เพื่อติดต่อผ่าน Line @
กรุณาแจ้งรุ่นและสี ที่ต้องการครับ
Additional information
| | |
| --- | --- |
| Brands | Korg |
| Categories | Keyboard Workstation (คีย์บอร์ด) |
| Instrument | Synthesizer&Keyboard (คีย์บอร์ด) |
| Series | Kronos 2 |
| Keys | 88 Keys |
SKU: 002-01137-88LS - Need Help? Contact Us Leave Feedback
Categories: Keyboard&Recording, Korg
Contact Us
Enter your contact details or email form shortcode here. (Text/HTML/Shortcodes accepted).
Leave Feedback
Enter your feedback modal content here. (Text/HTML/Shortcodes accepted).
New light-touch keyboard for effortless, nimble playing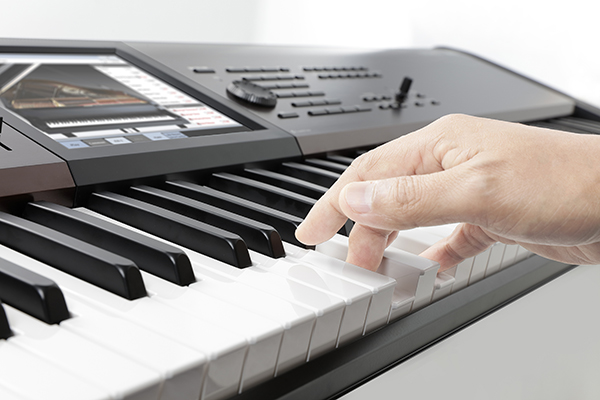 KORG's all-new light-touch keyboard makes it easy to play anything from rapid organ licks to synth phrases to glissandi. The mechanism of the keyboard itself has been redesigned so that the velocity is easier to control than on existing light-touch keyboards, even when playing complex chords or difficult phrases. The box-shaped keys share their look with KORG's premium RH3 action, while providing the faster playing feel of a synth keyboard. Since the keyboard is semi-weighted, it's also perfect for playing piano and electric piano in any style.
6.3 kg/14 lbs. lighter than KRONOS2-88 for increased portability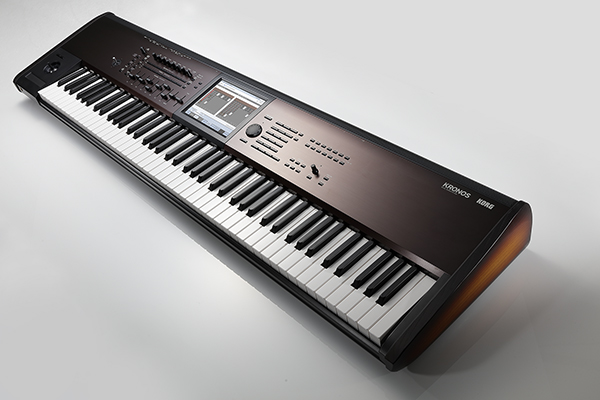 The new keyboard makes the instrument markedly lighter than KRONOS2-88 with KORG's RH3 action, making transport and setup much simpler. At under 19 kg/40 lbs., bringing a full 88-note KRONOS to a show just became more convenient.
New OS v3.1 includes new Quick Layer/Split functions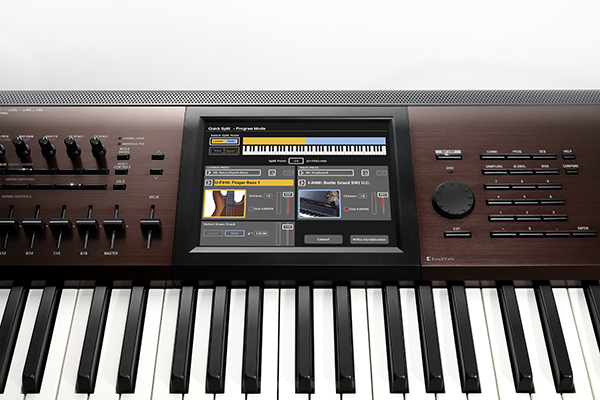 Along with its dynamic new keyboard, KRONOS LS features the latest KRONOS OS – v3.1 – which puts Quick Layer and Quick Split functions right at users' fingertips. Effortlessly create layers such as piano and strings, or splits such as electric piano and bass, effortlessly. Numerous additional OS refinements have also been made to further ensure stability and a stress-free performance environment.
A new look to complement its new feel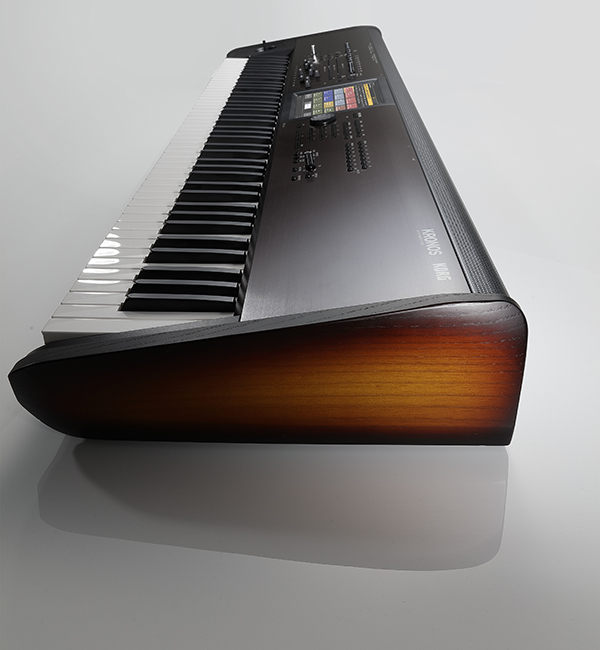 With its luxurious dark umber aluminum body and beautifully crafted sunburst wood side panels, KRONOS LS is designed to present as beautifully as it plays. KRONOS LS offers an elegant look that's perfect for home, stage, and studio.