Korg Krome
Korg Krome
On Stage. On the Go. On Top.
Offering full-length, unlooped samples of every key for a spectacular piano sound, this new keyboard redefines your expectations for an instrument in this class. Taking its name from the Greek word meaning "color," KROME is the new standard for sonic excellence in a gigging musician's keyboard, providing a limitless palette of sound to bring vivid inspiration your music. Introducing the KROME Music Workstation.

** กด"สั่งซื้อ/สอบถามข้อมูล" เพื่อติดต่อผ่าน Line @
กรุณาแจ้งรุ่นและสี ที่ต้องการครับ
3.8GB High-capacity PCM memory
KRONOS-derived full length, unlooped piano and drum sounds, plus new electric pianos designed to shine on stage
The Korg workstation ideal for any style of piano playing
Electric pianos with eight-level velocity switching for unmatched expressive power
Drums offering separately mixable direct and ambient sounds for studio-grade quality
Drum Track plays back realistic, inspiring grooves at the touch of a button
Expertly created, in-demand sounds including 640 Programs and 288 Preload Combinations
Distinctive aluminum panel design exudes a sense of quality
Clear, intuitive control with Korg's exclusive 7-inch color TouchView™ display
USB connection to your computer, plus an SD Card slot for data storage
You can use the KROME editor to edit sounds on your computer
Additional information
| | |
| --- | --- |
| Brands | Korg |
| Categories | Keyboard Workstation (คีย์บอร์ด) |
| Instrument | Synthesizer&Keyboard (คีย์บอร์ด) |
| Series | Krome |
| Keys | 61 Keys, 73 Keys, 88 Keys |
| Colors | Black, Platinum |
SKU: N/A - Need Help? Contact Us Leave Feedback
Categories: Keyboard&Recording, Korg
Contact Us
Enter your contact details or email form shortcode here. (Text/HTML/Shortcodes accepted).
Leave Feedback
Enter your feedback modal content here. (Text/HTML/Shortcodes accepted).

Natural Expression
KROME 61 and 73 models feature a semi-weighted keyboard; the great feel and response are ideal for playing everything from any style of piano, to dynamic organ performance, to pyrotechnic synthesizer solos.
KROME 88 is equipped with Korg's NH (Natural Weighted Hammer Action) keyboard, ensuring that every nuance of your playing dynamics will be expressively reflected when playing sounds such as piano or electric piano.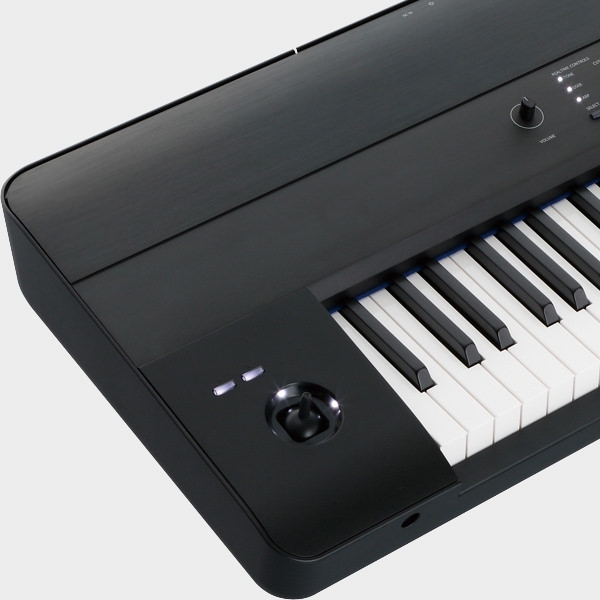 Distinctive aluminum panel design exudes a sense of quality
The dramatic dark colored body provides KROME with an elegantly curved profile. The top control panel is made using two aluminum panels of differing design.
The result is a distinctive appearance that projects an unmistakable presence, even on a cluttered stage. In both looks and sound, KROME will make a strong impression on the audience.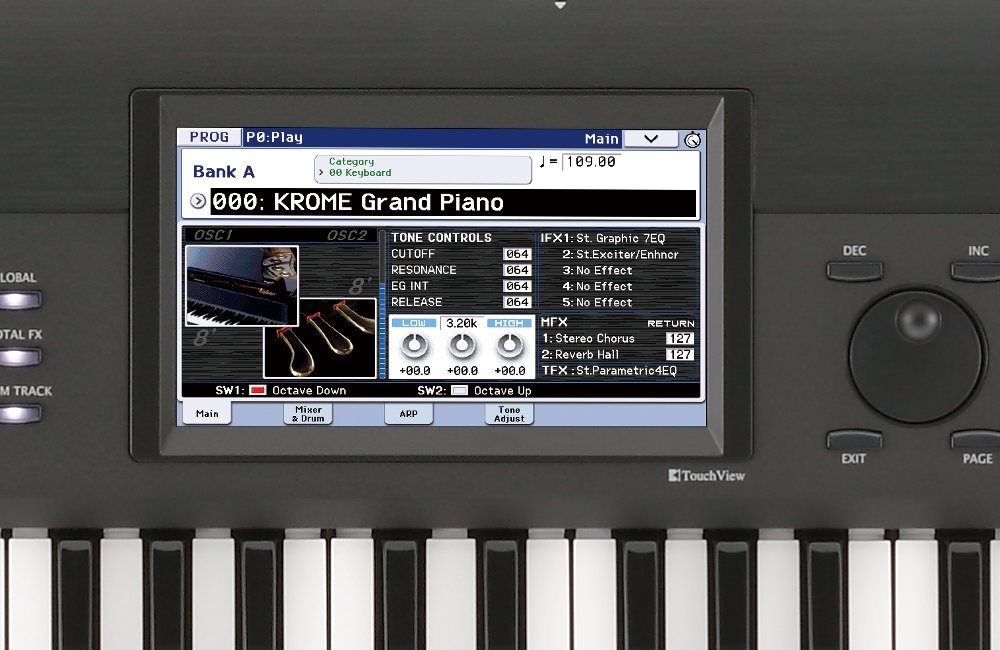 Intuitive TouchView™ interface
KROME's huge 800 x 480 pixel TouchView Color display can show numerous parameters at once, ensuring great visibility. Simply touch the screen to change sounds or edit parameters. Finger-drag editing is also supported, allowing you to use the on-screen sliders and knobs directly.
Numerous functions take advantage of the TouchView interface, such as the piano roll editor, a stopwatch that's convenient for keeping track of a live performance, and a calculator keypad that is convenient for entering numerical values.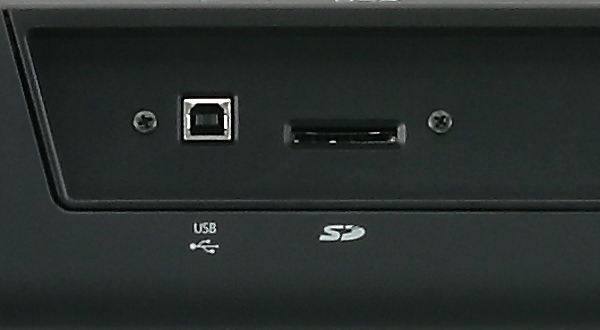 USB and SD Storage
You can connect KROME to your computer via USB to easily transfer MIDI data. You can also use an SD card (commercially available) to manage the KROME's data files.