Korg Electribe 2
Korg Electribe 2
Electribe เป็นเครื่องผลิตซินธิไซเซอร์ที่เปลี่ยนแรงบันดาลใจให้เป็นเสียงด้วยความเร็วในการประมลผลสูงสุด มันมีตัวกำเนิดสัญญาณอะนาล็อกจำนวนมากและตัวกรองที่หลากหลาย ไม่ว่าคุณจะเลือกเสียงหรือแก้ไขเสียง การดำเนินการทั้งหมดทำได้ง่ายเพียงใช้ปุ่มบนแผงควบคุมนอกจากนี้ยังสมารถอินเทอร์เฟซการป้อนข้อมูลที่หลากหลาย เพื่อได้รับการปรับให้เหมาะกับจังหวะอินพุตเบสหรือทำนองเพลง ช่วยให้คุณสร้างลำดับได้อย่างราบรื่นเร็วเท่าที่คุณคิด โดยลำดับsequences ที่คุณสร้างนั้นจะได้รับวิวัฒนาการเพิ่มเติมบนเวทีหรือในแล็ปท็อปของคุณ คุณสามารถเพลิดเพลินไปกับการแสดงสดที่ใช้งานง่ายซึ่งเชื่อมโยงอุปกรณ์ต่าง ๆ กับ electribe หรือใช้ความสามารถนี้สำหรับการผลิตเพลงเต็มรูปแบบโดยการส่งออกข้อมูลลำดับ sequence ไปยัง Ableton Liveเพื่อการแก้ไขโดยละเอียดและการ mixing ในขั้นสุดท้าย
Korg Electribe 2
The fastest and most intuitive way to make beats.
A production machine with a variety of analog modeling sound engines.
The electribe is a synthesizer-based production machine that turns inspiration into sound at maximum speed. It contains numerous analog oscillators and a wide variety of filters. Whether you're selecting sounds or editing them, all operations are performed simply by using the top panel knobs. In addition, a variety of input interfaces optimized for inputting rhythm, bass, or melody allow you to smoothly create sequences as fast as you can think.
The sequences that you create can then undergo additional evolution on stage or in your laptop. You can enjoy intuitive live performances that link various devices with the electribe, or utilize this capability for full-fledged music production by exporting sequence data to Ableton Live for detailed editing and final mixing.
The latest system version 2 adds a much-requested pattern chain function that will be a great asset for live performances or music production. The lineup has also become more colorful with the new metallic blue model. And we've also provided bonus patterns that reveal even greater sonic potential.
Making your beat-making ideas rapidly take shape. It's the electribe; a synthesizer + sequencer that's thoroughly optimized for speed.

** กด"สั่งซื้อ/สอบถามข้อมูล" เพื่อติดต่อผ่าน Line @
กรุณาแจ้งรุ่นและสี ที่ต้องการครับ
Additional information
| | |
| --- | --- |
| Brands | Korg |
| Categories | Synthesizer (ซินธิไซเซอร์) |
| Instrument | Synthesizer&Keyboard (คีย์บอร์ด) |
| Series | Electribe |
SKU: 002-02036 - Need Help? Contact Us Leave Feedback
Categories: Keyboard&Recording, Korg
Contact Us
Enter your contact details or email form shortcode here. (Text/HTML/Shortcodes accepted).
Leave Feedback
Enter your feedback modal content here. (Text/HTML/Shortcodes accepted).
The electribe continues to evolve
A new metallic blue model – a nod to the legacy of electribe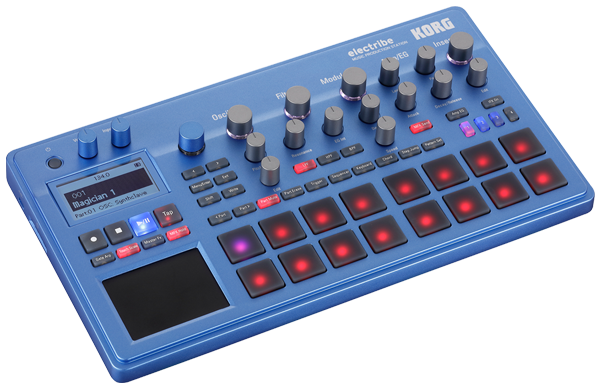 Following the chic gray unit, the lineup has been joined by a metallic blue model that's reminiscent of the previous model, the ELECTRIBE MX. Complemented by the numerous colorfully illuminated LEDs, this unit will energize your playing.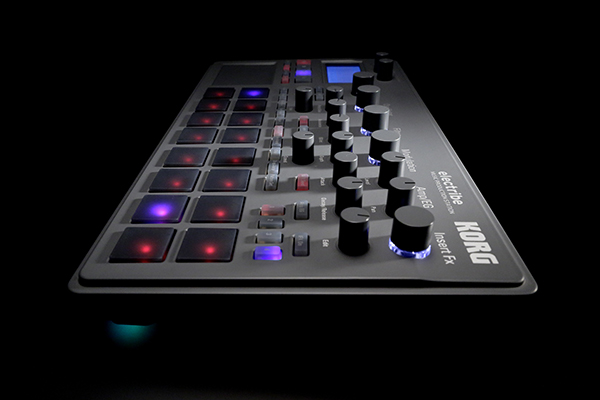 Updates make the electribe evolve daily. System version 2 adds support for the much-requested pattern chain function and undo function, as well as support for original value display. Users who already own an electribe can update their unit and then enjoy playing.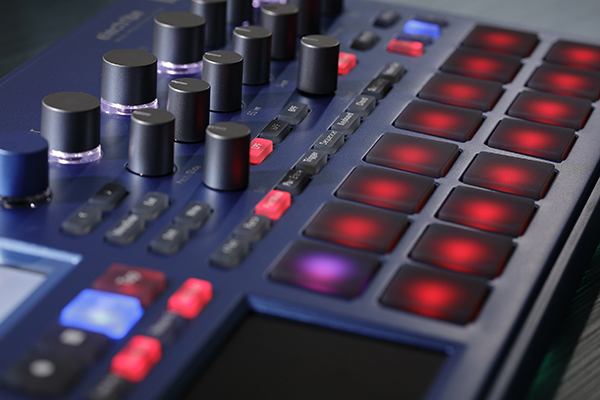 Electribe artists, sound designers, and beat makers from around the world have created bonus pattern data packed with new sounds, phrases, and sequences. These 203 different patterns include synthesizer sounds, drum kits, and ideas that work with a variety of musical styles. They are provided as reference materials for your beat-making or as foundations to give you new inspiration.