Fender Custom Shop 1951 Nocaster Lush Closet Classic
Fender Custom Shop 1951 Nocaster Lush Closet Classic
If a Nocaster Sat in Your Closet for a Few Decades...
If you bought a Nocaster in 1951, then stored it in your closet for a few decades, you'd get the Time Machine 1951 Nocaster Lush Closet Classic. Experience a nice balance of brightness, warmth, and midrange "pop," thanks to a premium 2-piece select ash body. Inject your playing with jangly, smooth, sparkling tones and a distinct twangy bite, via hand-wound single-coil pickups. Enjoy outstanding playability, courtesy of a 10/56 "V"-shaped maple neck. You also get a bone nut and vintage-style brass saddles to ensure unfettered sustain. Beyond that, the 1951 Nocaster's Closet Classic finish gives it a broken-in feel and a well-taken-care-of appearance that's sure to attract attention.

** กด"สั่งซื้อ/สอบถามข้อมูล" เพื่อติดต่อผ่าน Line @
กรุณาแจ้งรุ่นและสี ที่ต้องการครับ
Additional information
| | |
| --- | --- |
| Body Types | Telecaster |
| Brands | Fender Custom Shop |
| Instrument | Guitar Electric |
| Colors | Faded Nocaster Blonde Maple Neck |
SKU: F923-5000-524 - Need Help? Contact Us Leave Feedback
Categories: Electric, Fender Custom Shop, Guitar
Contact Us
Enter your contact details or email form shortcode here. (Text/HTML/Shortcodes accepted).
Leave Feedback
Enter your feedback modal content here. (Text/HTML/Shortcodes accepted).
The "Nocaster" legend
Bearing the revered "Nocaster" moniker, the Time Machine 1951 Nocaster springs from a most interesting lineage. As we know, our beloved Telecaster was originally christened the "Broadcaster." At the time, Gretsch had a drum set named "Broadkaster," and threatened a legal action against Fender to protect the name. Wanting no part of this, Fender simply cut off the headstock decals to simply read "Fender." Thus, the Nocaster legend was born — affecting only about 475 instruments before Fender came up with the Telecaster name. So Nocasters are rare, indeed — which all the more makes the 1951 Nocaster a 6-string object of desire.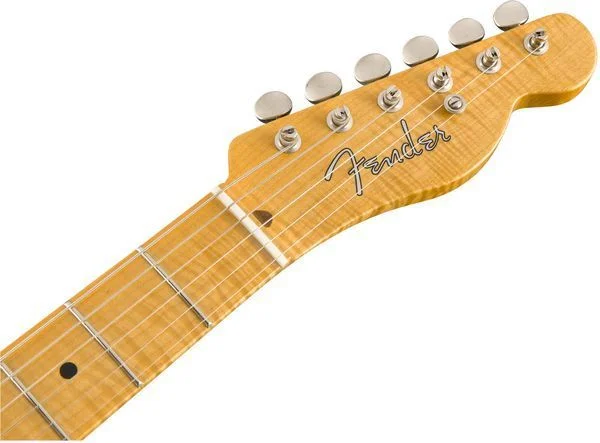 Hand-wound single-coil pickups dish out classic Tele tones
You're sure to cut through the mix, thanks to the Time Machine 1951 Nocaster's loaded '51 Nocaster pickups. These pups feature a period-correct design and exhibit the tight low end and clear, balanced midrange you'd expect from a vintage '50s Tele. And the bridge pickups twangs like it's nobody's business. Both of these single-coil pickups have been hand-wound to ensure the highest quality possible. The 1951 Nocaster comes complete with a 3-way switch and Fat '50s Tele wiring.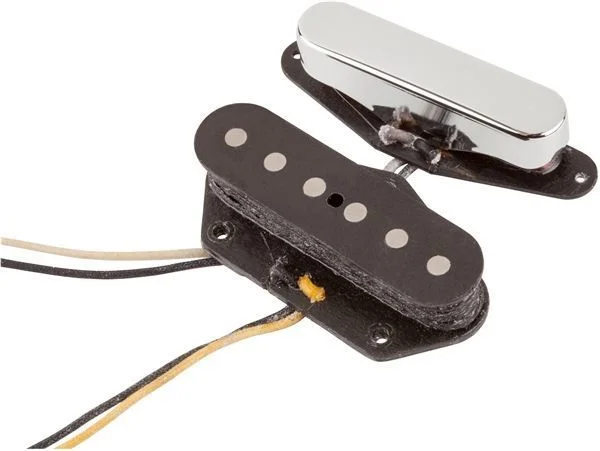 Quartersawn neck gives you ultra-stability and ultra-playability
The neck is one of the most important aspects of any instrument, which is why the Fender Custom Shop Time Machine 1951 Nocaster features a quartersawn maple neck. Besides looking good, the straight grain of quartersawn necks is about 50% more stable than plain-sawn necks and less likely to warp, twist, or shrink. The guitarists here at Sweetwater also love the feel of the 1951 Nocaster's 10/56 "V" profile and easy-playing 9.5″ radius fingerboard.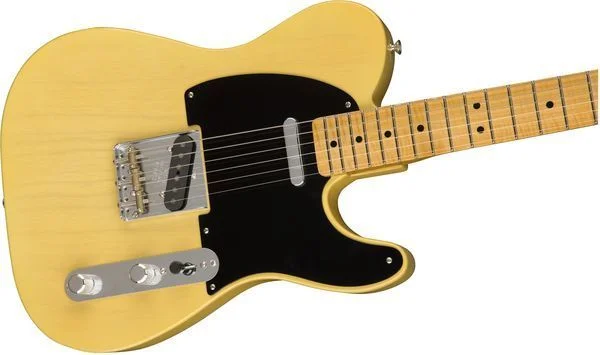 The Closet Classic treatment offers real-deal visuals
Fender Custom Shop's Closet Classic treatment creates instruments that are spittin' images of the originals. Without sneaking a look at the neck heel stamp, you'd be hard-pressed to distinguish this guitar from an original, lovingly-cared-for '51 Nocaster. The Time Machine 1951 Nocaster wears a gently aged nitrocellulose lacquer finish. Nitro finishes — standard back in the day — are significantly thinner than today's polyurethane finishes, allowing the guitar to "breathe." Nitro finishes not only look vintage-y wonderful, they also enhance the instrument's tonal qualities, giving you the look, sound, and feel of an aged classic.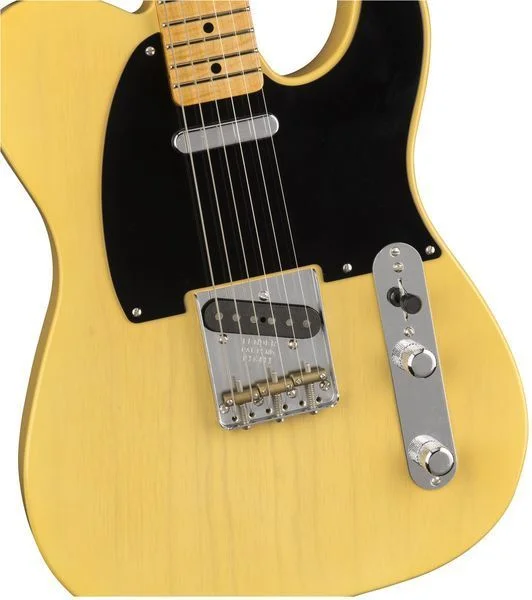 1951 Nocaster
Custom Built 
Lush Closet Classic
Color :  Faded Nocaster Blonde
Body: 
2-piece Select Ash (Nitrocellulose Lacquer Finish)
Neck:
1-piece AA Flame Quartersawn Maple Neck,
1-piece Maple Fingerboard, 10/56 "V" Neck Shape,
9.5″ Radius, Bone Nut
Frets:
21, 6105 Narrow Jumbo
Pickups:
2x '51 Custom Shop Hand-wound Loaded Nocaster
Single-coil
Controls:
Master Volume, 1 Tone, 3-Way Switch
Hardware:
3-Saddle Vintage Strings-thru with Brass Saddles
Bridge, Vintage-style with Fender logo Tuning-
Machines, Nickel/Chrome
String:
Fender® USA 250R, NPS, (.010-.046 Gauges)
Case:
Deluxe Hardshell Case