Epiphone SG Standard 60s
Epiphone SG Standard 60s
Epiphone SG Standard '61 ได้รับแรงบัลดาลใจมาจาก Gibson Collection รุ่นใหม่ โดยการนำ Gibson SG โมเดลที่หายากในปี 1961 จากการผลิตปีแรกๆขึ้นมาอีกครั้ง โดดเด่นด้วยลำตัวที่ทำจากไม้มะฮอกกานีแบบคลาสสิก การตกแต่งสีแบบ Vintage Cherry และขับเคลื่อนด้วย humbuckers ProBucker พร้อมอุปกรณ์อิเล็กทรอนิกส์ CTS
Epiphone SG Standard 60s
Inspired by the 1961 Gibson SG and powered ProBucker™ humbuckers
The Epiphone SG Standard '61 from the new Inspired by Gibson Collection recreates the rare 1961 Gibson SG, from its first year of production. Featuring a classic Mahogany body in a Vintage Cherry finish and powered by ProBucker™ humbuckers with CTS electronics.

** กด"สั่งซื้อ/สอบถามข้อมูล" เพื่อติดต่อผ่าน Line @
กรุณาแจ้งรุ่นและสี ที่ต้องการครับ
Additional information
| | |
| --- | --- |
| Body Types | SG |
| Brands | Epiphone |
| Instrument | Guitar Electric |
| Colors | Vintage Cherry Indian Laurel Neck |
| Series | epiphone 2020 series |
SKU: 043-05376-VC - Need Help? Contact Us Leave Feedback
Categories: Electric, Epiphone, Guitar
Contact Us
Enter your contact details or email form shortcode here. (Text/HTML/Shortcodes accepted).
Leave Feedback
Enter your feedback modal content here. (Text/HTML/Shortcodes accepted).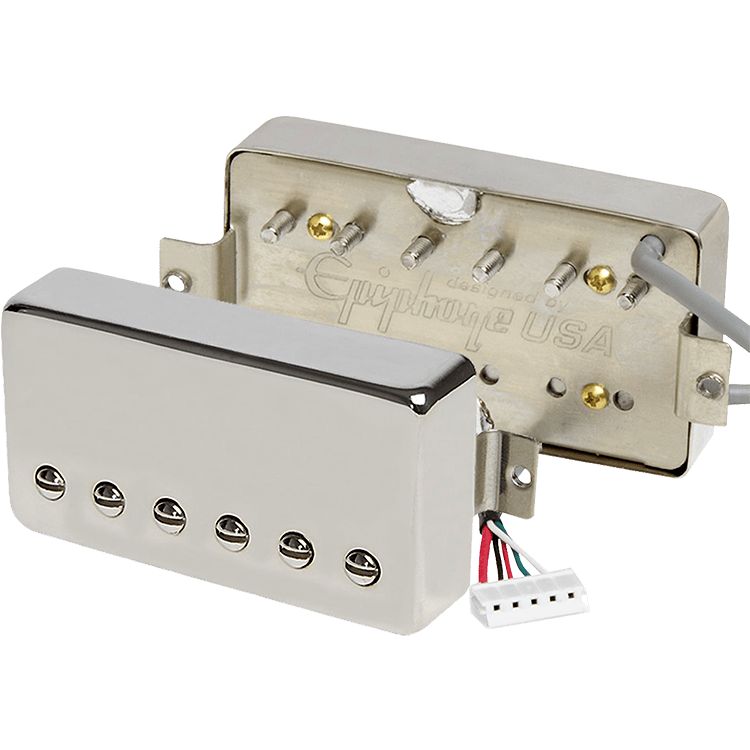 ProBucker™ Humbucker Pickups
The classic "P.A.F" sound is closer than you think
Epiphone's ProBucker™ humbucker™ has quietly become one of the most talked-about pickups in the industry. It has fooled experts, vintage purists, and even luthiers who have worked with the best vintage examples from the late 50s and early 60s. Epiphone ProBucker humbuckers are the real deal–made with 18% Nickel Silver unit bases and covers, the same alloy used by Gibson at the Kalamazoo factory when the humbucker was first invented. The use of Nickel Silver reduces the occurrence of eddy currents due to low conductivity and provides a more transparent and crisp output. The size and shape of the bobbins also have a significant impact on tonal response. And the bobbins used on ProBucker pickups duplicate the size and shape of the gold standard in the industry, Gibson humbuckers. Epiphone ProBucker pickups also feature sand-cast Alnico 2 magnets, high-quality four-conductor lead wire or braided coaxial lead wire, depending on the model and feature set, and are vacuum wax potted to eliminate microphonics.
SG Standard 60s
Inspired by the 1961 Gibson SG and powered ProBucker™ humbuckers
Body:
Mahogany
Neck:
Mahogany w/Indian Laurel Fingerboard,
SlimTaper™ Neck Shape, 12″ Radius,
Trapezoid Inlays
Frets:
22 Medium Jumbo
Pickups:
Epiphone ProBucker-2 (Neck)
Epiphone ProBucker-3 (Bridge)
Controls:
2 Volume, 2 Tone, 3-Way Switch
Hardware:
LockTone™ ABR Tune-o-matic Bridge,
Stop Bar Tailpiece, Epiphone Vintage-
Deluxe 18:1 ratio machine heads, Nickel
Strings:
.10, .13, .17, .26, .36, .46
Case:
N/A