Epiphone Limited Edition Lee Malia RD Custom Artisan Outfit
กีต้าร์ Epiphone Limited Edition Lee Malia RD Custom Artisan Outfit
หากจะพูดถึงวง Bring Me The Horizon วงฮาร์ดคอร์จากเกาะอังกฤษ คงจะไม่พ้นของการแสดงสดสุดมันส์ กับเพลงที่แจ้งเกิดในยุคแรกๆอย่าง Pray For Plagues , Chealsea Smile ,Diamonds Aren't Forever
จนถึงปัจจุบัน ก็ยังมีเพลงที่ติดหูผู้ฟังอย่างมากกับเพลง True Friends, Follow You, Throne จากอัลบั้มใหม่ที่ทำให้วงได้รับรางวัลจากหลากหลายสถาบันอีกด้วย
Epiphone Lee malia RD Custom เป็นการร่วมมือกันระหว่าง Lee Malia และทีม Engineer ของ Epiphone สร้างมันขึ้นมาให้มีความหรูหรา และ ขณะเดียวกัน เรื่องเสียงก็ไม่ได้มาเล่นๆ เสียงคลีนจาก Pick up ตัวหน้าก็ฉ่ำหวานไม่แข็งทื่อ ตัวหลังก็ดุดันด้วย Pick up Gibson USA 84T-LM ที่ทางเราคาดไว้ว่าเป็นรุ่นที่ Gibson เป็นคนออกแบบให้กับ Leemalia เพื่อให้มี Output ที่แรงและมีความร่วมสมัยมากขึ้น ให้เข้ากับเพลงของเขานั้นเอง
*** หลายคนคงสงสัยว่าทำไมทรงแปลกๆ ไม่เคยเห็น หรือ ไม่ก็เห็นบ้างแต่น้อยมาก เราขออธิบายแบบง่ายๆเลยก็คือ ทรง RD ถูกผลิตขึ้นครั้งแรกในช่วงยุค 70 โดยมุ่งหวังไว้ว่าจะเป็นกีต้าร์ตัวแรกที่เข้าไปอยู่ในตลาดของคนเล่นเสียงสังเคราห์ Synthesizer ทำไมน่ะหรอ? ก็เพราะว่า Norlin ซึ่งเป็นประธานบริษัทของ Gibson นั้น ในขณะเดียวกันเค้ายังรับตำแหน่งเป็นประทานของบริษัท Moog ผู้ผลิต Synthesizer ชื่อดังด้วยนั่นเอง และระบบวงจรของกีต้าร์ Bob Moog เป็นคนออกแบบอีกด้วยนะเธอ
Epiphone Limited Edition Lee Malia RD Custom Artisan Outfit
Vintage late 70s "RD" profile featuring Gibson USA Pickups with coil-splitting
-Epiphone presents the Ltd. Ed. Lee Malia RD Custom Artisan Outfit designed with Lee Malia of Bring Me the Horizon. Featuring the vintage 1970s "RD" profile in Lee's signature Walnut finish with a Gibson USA P-94 single coil and 84T-LM™ humbucker pickup, vintage style "Artisan" inlay, and custom gigbag with hand-signed Certificate of Authenticity.

** กด"สั่งซื้อ/สอบถามข้อมูล" เพื่อติดต่อผ่าน Line @
กรุณาแจ้งรุ่นและสี ที่ต้องการครับ
Additional information
| | |
| --- | --- |
| Body Types | Designer |
| Brands | Epiphone |
| Instrument | Guitar Electric |
| Colors | Walnut Rosewood Neck |
Need Help? Contact Us Leave Feedback
Categories: Electric, Epiphone, Guitar
Contact Us
Enter your contact details or email form shortcode here. (Text/HTML/Shortcodes accepted).
Leave Feedback
Enter your feedback modal content here. (Text/HTML/Shortcodes accepted).
A New Sound for A New Generation
The original "RD" line of guitars and basses were first released in the late 70s as a "Research and Development" series that combined cutting edge electronics with classic style. It's a fitting design for Lee Malia, who has emerged as one of the leading guitarists of his generation for his work in the pioneering pop and metal band Bring Me the Horizon.
Like Lee's classic Les Paul Artisan, the new Ltd. Ed. Lee Malia RD Custom Artisan Outfit features Malia's favorite Walnut finish with Ivory and Black binding on the body and headstock along with an "Artisan" floral inlay in pearloid on a smooth Torrefied Composite fingerboard. The Mahogany body has a Maple top to add bite to the tone. The Mahogany neck has an easy-to-play "1959" Rounded "C" profile with a 24.75" scale length. The black traditional "clipped ear" headstock also has floral inlay with a pearloid "Epiphone" logo in 60s era typeface with a "Lee Malia" signature inlay on the back.
Gibson USA Pickups with Coil-Splitting
To get his distinctive tone, Lee Malia prefers the combination of a sensitive P-94 single coil pickup for rhythm and a powerful Gibson 84T-LM™ humbucker for solos. In between the two pickups under the pickguard is a "Dummy Coil" that cancels the "hum" when in single-coil mode. Classic "TopHat" knobs with metal inserts control neck and bridge Volume and Tone. The bridge volume pot also serves as a coil-spitting control (via a push/pull switch) so the humbucker can also be used as a single-coil pickup.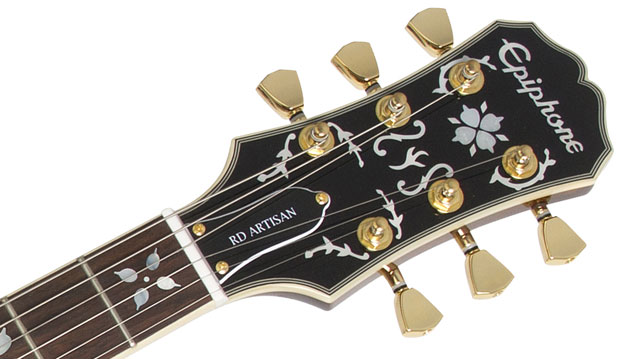 Epiphone Rock Solid Hardware
Lee Malia's Ltd. Ed. RD Custom Artisan features stylish gold hardware including premium 14:1 ratio die-cast machine heads with "tulip" buttons plus Epiphone's road worthy exclusive non-rotating, heavy duty output jack with a metal output jack plate. Set up and intonation is easy thanks to the classic combo of a LockTone™ Tune-o-matic bridge and Stopbar tailpiece. The three-way toggle switch is on the upper bout. A custom gigbag and a Certificate of Authenticity hand-signed by Lee Malia are also included.
Lifetime Warranty
The Ltd. Ed. Lee Malia RD Custom Artisan Outfit comes with Epiphone's Limited Lifetime Warranty and Gibson's legendary 365/24/7 Customer Service. Limited Editions don't last long, especially when they are designed by Lee Malia! See your Authorized Epiphone Dealer today or visit Epiphone.com to find a dealer near you!
Gibson USA P-94 and 84T-LM humbucker 
with coil-splitting
Color : Walnut
Body:
Top Maple, Mahogany
Neck:
Mahogany w/ Torrefied Composite
Fingerboard, "1959" Rounded; C-Profile,
Radius 12″, Glued-In Set Neck,
Artisan Inlay
Frets:
22
Pickups:
Gibson USA P-94™ Single Coil (Neck)
"Dummy Coil"; Cancels Hum in single-coil
mode (Middle)
Gibson USA 84T-LM™ Humbucker (Bridge)
Controls:
1-Neck Volume, 1-Neck Tone,
1-Bridge Volume with coil-splitting,
1-Bridge Tone,
3-way Toggle Switch, Epiphone All-Metal;
Toggle Cap White
Hardware:
Gold Hardware, LockTone™ Tune-o-matic
Bridge, LockTone™ Stopbar Tailpiece
Case:
Gigbag