Epiphone Alex Lifeson Les Paul Axcess Standard
Epiphone Alex Lifeson Les Paul Axcess Standard
ในงานของเขากับ Rush นั้น Alex Lifeson ได้กำหนดขอบเขตของกีต้าร์ร็อคโปรเกรสซีฟใหม่ด้วยการเล่นที่เหนือชั้นกว่าเพื่อเผยให้เห็นถึงความน่าทึ่งอย่างแท้จริง ซึ่งได้รับคำชมเชยและชื่นชมจากแฟน ๆ และผู้เล่นในทุกรูปแบบ ล่าสุด Epiphone Alex Lifeson Les Paul Axcess Standardสร้างสรรค์ขึ้นจากการทำงานอย่างกว้างขวางกับ Alex Lifeson และ Gibson โดยได้กำหนดขอบเขตของ Les Paul คลาสสิกคุณภาพสูงในแบบที่สามารถเข้าถึงได้ กีต้าร์รุ่นนี้ใช้โทนเสียงดั้งเดิมทั้งหมดที่ทำให้ Les Paul เป็นตำนาน ควบคู่ไปกับระดับความแข็งแกร่งของเสียงและประสิทธิภาพที่ไม่เคยมีมาก่อนAlex Lifeson Les Paul Axcess Standard นำเสนอ Epiphone Ceramic Pro neck and ProBucker 3 bridge pickupsพร้อมตัวเลือกการแยกคอยล์ผ่านการควบคุมระดับเสียงแบบ push-pull volume controls และระบบ Graph Tech Ghost Floyd Roseที่ไม่เพียงแต่ให้การสั่นที่มีประสิทธิภาพมากที่สุดในโลก แต่ยังแฝงคุณสมบัติอย่าง Ghost piezo bridge saddlesทำให้เข้าถึงโทนเสียงจากอคูสติกที่สมจริง หรือผสมผสานกับโทนเสียงจากแม่เหล็กเพื่อให้ได้โทนเสียงที่หลากหลายคุณสามารถกำหนดเส้นทางทั้งหมดผ่านแจ็คโมโนแบบเดิมหรือใช้สายเคเบิลสองเส้นสำหรับเอาต์พุตจากแม่เหล็กและ piezo แต่ละตัว ทั้งหมดนี้ Alex Lifeson Les Paul Axcess Standard ยังคงนำเสนอลุคที่ไร้กาลเวลาของ Les Paul ซึ่งยังคงเป็นคลาสสิกมานานกว่า 60 ปี
Epiphone Alex Lifeson Les Paul Axcess Standard
A Stunningly Versatile Les Paul Made in Collaboration With the Rush Legend
In his work with Rush, Alex Lifeson has redefined the boundaries of progressive rock guitar, with playing that soars beyond the drama and the bluster to reveal truly stunning virtuosity that has been praised and admired by fans—and players—of all stripes. Created through extensive work with Alex Lifeson and Gibson™, Epiphone's Alex Lifeson Les Paul Axcess Standard similarly redefines the boundaries of the classic Les Paul™ in an accessible package. This guitar carries all of the traditional tones that have made the Les Paul legendary, along with unprecedented levels of sonic and performance versatility. The Alex Lifeson Les Paul Axcess Standard carries powerful Epiphone Ceramic Pro neck and ProBucker 3 bridge pickups with coil-splitting options via their push-pull volume controls and a Graph Tech Ghost Floyd Rose system that not only provides the world's most efficient vibrato but is also loaded with Ghost piezo bridge saddles. Access traditional magnetic humbucker tones, mix it up with coil-split options, tap the Ghost's realistic acoustic tones, or blend acoustic and magnetic voices — the sky's the limit from this sonic chameleon, whose sound-shifting depths are virtually limitless. You can route it all through a traditional mono jack or use two cables for individual magnetic and piezo outputs. All this and the Alex Lifeson Les Paul Axcess Standard still presents that timeless Les Paul look that has remained a classic for more than 60 years. An EpiLite™ case is also included.

** กด"สั่งซื้อ/สอบถามข้อมูล" เพื่อติดต่อผ่าน Line @
กรุณาแจ้งรุ่นและสี ที่ต้องการครับ
Additional information
| | |
| --- | --- |
| Brands | Epiphone |
| Instrument | Guitar Electric |
| Body Types | Les Paul |
| Colors | Viceroy Brown Indian Laurel Neck |
SKU: 043-05374-VRB - Need Help? Contact Us Leave Feedback
Categories: Electric, Epiphone, Guitar
Contact Us
Enter your contact details or email form shortcode here. (Text/HTML/Shortcodes accepted).
Leave Feedback
Enter your feedback modal content here. (Text/HTML/Shortcodes accepted).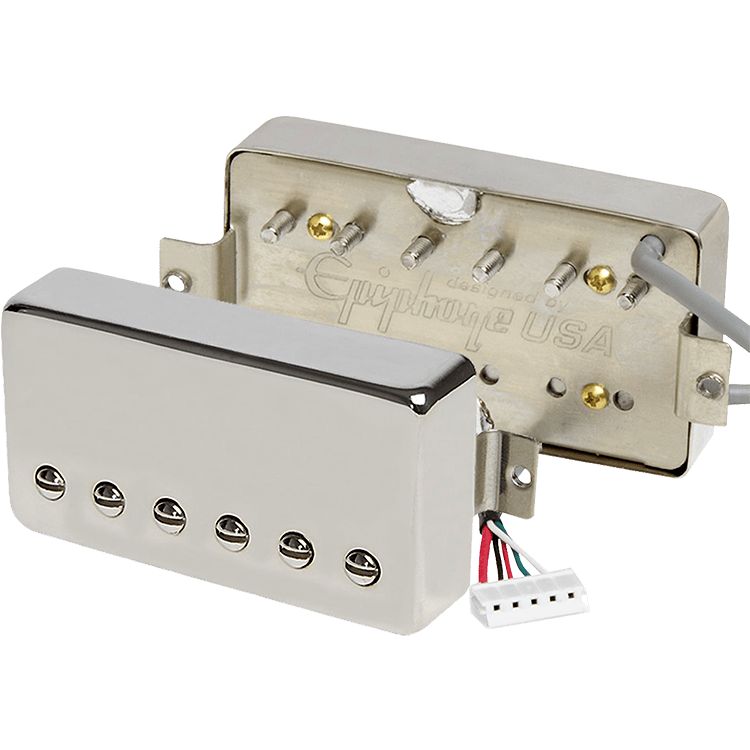 ProBucker™ humbucker Pickups
The classic "P.A.F" sound is closer than you think
Epiphone's ProBucker™ humbucker has quietly become one of the most talked about pickups in the industry. It has fooled experts, vintage purists, and even luthiers who have worked with the best vintage examples from the late 50s and early 60s. Epiphone ProBucker™ humbuckers are the real deal–made with 18% Nickel Silver unit bases and covers, the same alloy used by Gibson at the Kalamazoo factory when the humbucker was first invented. The use of Nickel Silver reduces the occurrence of eddy currents due to low conductivity and provides a more transparent and crisp output. The size and shape of the bobbins also has a great impact on tonal response. And the bobbins used on ProBucker™ pickups duplicate the size and shape of the gold standard in the industry, Gibson humbuckers. Epiphone ProBucker™ pickups also feature sand cast Alnico II magnets, high quality 4 conductor lead wire, and are vacuum wax potted to eliminate microphonics.
Alex Lifeson Les Paul Axcess Standard

Color: Viceroy Brown
Body:
Mahogany, Carved Maple with AAA Flame
Maple veneer Top, Comfort-Carve Belly-
Scarf Back, Gloss Finish
Neck:
Mahogany, Lifeson profile, Indian Laurel-
Fingerboard, 12″ Radius, Floyd Rose® R4-
Locking Nut, Trapezoid Inlays, Glued in; Set
Neck, Axcess Contour Heel Joint
Frets:
22 Medium Jumbo
Pickups:
Epiphone Ceramic Pro™ (Neck),
Epiphone ProBucker™ 3 (Bridge)
Controls:
Neck Volume, Bridge Volume – each with
push/pull coil split, Piezo Volume with
push/pull on/off, Master Tone, 3-way Switch
Hardware:
Graph Tech® Ghost® Tremolo Bridge,
Epiphone Deluxe with Keystone buttons-
Tuning Machines, Nickel
Strings:
.010, .013, .017, .026, .036, .046
Case:
EpiLite Les Paul